See Me Now?
December 6, 2011
I stared at all of them and they all stared back. Yet, they couldn't see me. My parents hadn't hugged in years and now they were holding each other crying. My little brother couldn't bear to come, he had stayed home denying it happened.

I looked with pain at my boyfriend, his best friend and his mom. He looked up towards me, his lovely brown eyes filled with pain and disbelief. His best friend simply looked down wishing this was a dream. His mom was wreck; she couldn't have ever expected it to happen. I gave her a hug that she'd never feel. I kissed my boyfriend's forehead and whispered that it was ok. He never heard my words nor felt my kiss. I hugged his best friend, reminding him to take care of my boyfriend while I was gone. Words he'd never hear.

I walked to my band teacher who stood in the back with a few members of the band. She had been crying, but most of the band had been. One member in particular, the one who had threatened my life the one who acted as if he wanted me dead, and I'm pretty sure he did until I really was. He looked like he hadn't slept in days, but it looked like no one had. One member who had never showed the slightest emotion towards me had showed up. I stood next to him in the very back watching everything. I looked up at him, for he had always been taller than me. And when I looked I saw a single tear run down his face. I tried to wipe it away but it didn't work of course. For no one could see my ghost. I whispered that he had no need to be here. I barely heard him whisper, "I bet I did miss one he** of a time at the swing dance. I wish I had danced with you, Or at least tried to feel for you." I wanted to cry, but ghosts don't cry.

I saw four more members of the band, the French horn section and they were next to the trombones. The horns were all a mess, I thanked them for the inspiration they supplied me with but they would never hear my words of love. I looked at one trombone player in particular next. He had been a great friend to me and was a mess. I hugged him and told him he had always inspired me to get better, and that I had always admired him as a musician. He would never hear my words of praise.

My section from both marching and symphonic band stood staring at the front of the room. I thanked them all for pushing me to be the best I could be. I had finally understood that they couldn't hear me, feel me, nor see me. Yet I continued.

Friends from out of state had flown in. I hugged them each individually for being there for me over the years. I felt horrible, but I couldn't have stopped it. It wasn't my fault. I was just in the wrong place at the wrong time. The bullet wasn't meant for me. It was meant for him. But he man who caused this got away and I have no clue if they got him yet.

I saw my best friend holding her baby brother close to her. He was confused being only two. I wrapped my arms around the two of them as she cried. Her baby brother looked at me and waved, and then he wiped his sister's tears and said, "She's still here." He pointed to her heart. "And here," He said pointing to his heart. He was the only one who didn't see through my ghost.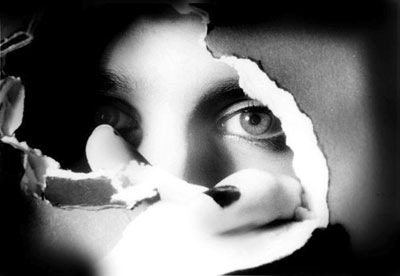 © Tabatha B., Peoria, IL