Bleak
November 28, 2011
The day was bleak and cold, leftover from winter, even though it was now the middle of April. If you looked up the only thing you would see is a blanket of clouds, covering all blue in the sky and blotting it out to a dull gray. Even the sun couldn't be seen from behind the clouds.

Looking out my window, I started feeling dull and grim. Turning around I see my plain grey walls, plain dark hardwood, and white furniture and I want to scream, but I know my scream would not be heard and would fall on the world as another blot of gray.
I
am
so
sick
of
gray

I can't take it anymore. I walk over to my small cabinet in the side corner of my room, and open the plain white exterior to find 5 paint cans and 7 brushes of varying sizes. Picking up an electric green can of paint and a large brush, I dip it in and then out comes my wild side.

Splatter, the green snakes onto the walls, droplets harsh against the gray.

Splatter, another row of green overlaps the other, sending some drops onto the floor.

Now I take my brush and attack the wall, painting long strokes and before i know it the entire wall is blinding and very green.

Picking up the next paint can, a deep sky blue. i face the next wall and move in.

I paint a river, forever flowing and winding around a gray landscape, the only color in the world I create. Each stroke is defined, imperfect, and wild, but together they make up a single river. When I am done I step back and look at my river, so full of life and joy, so opposite of my world.

So new.

Now I am worked up, I pick up an orange paint can and attack the wall near my bed. I paint birds, soaring through the sky of gray, the only bright point in a world of dull, pointless, bleak existence. The birds soar, leaving behind streaks of orange, smeared from their feathers. I wish I was a bird.
The final can of paint I pick up is red, fiery, and so alive. Now I paint on my final wall, a fire so large and full of life, I can't stand its contrast to my life. I paint until my wrists ache, but when I stop, I feel alive. Like there are bright green patches, endless rivers, soaring birds, and millions of fires, all inside me at once.

Looking around my room I see so much color and life, I start to cry.

I brought color to my world.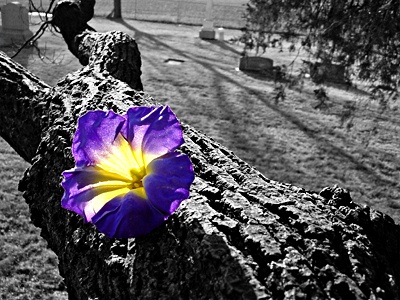 © Greg K., New Lenox, IL