Random Fit of Poetic Inspiration
October 13, 2011
I think the sun is going down. I could be upside down and it might be rising instead, but I'll go with what I've got. I wade barefoot through the dew-wet grass and am not afraid, the sound of the back door closing echoing in my ears. The car is in the back. I can't remember why I parked it there.
I climb in and my feet are wet when they slide across the nubbly carpet and for some reason as soon as I close the door they're cold and numb, too. But you turn the heater up and I wiggle my toes and laugh. I know why I couldn't remember why I parked the car in the back – because I didn't. You did. After all, it's your car.
Your car that we are now letting roll easily down the alley behind my house so as not to wake anyone and this is not a moment for chaos and laughter. That I can feel in the depths of me, and I know you feel it too because when we lock eyes you only smile. I smile back and think of the chocolate butterscotch cookies I made that are tucked in a plastic bag in the kangaroo pouch of this sweatshirt you bought for me when you went to Washington D.C. You remembered I collected sweatshirts so you bought this one for me and I hugged you when you came back. Someone's sprinklers are on in the alley and the spray makes dewy spittle across your side of the car.
Eventually we reach the end of the alley and you peer around the sunflowers to look if anyone is coming. No one is, no headlights boring through the gathering nine p.m. darkness. You pull out on the road and the clicking turn signal noise stops. I don't remember it starting, but it doesn't matter. It's an adventure. Nothing matters.
I'm grinning gleefully as we go down the road, this road I know by heart. As we wind our way through town you ask quietly if I mind that you haven't turned on the radio. I say no.
It feels odd to talk in this beautiful foreign silence so I shrink back into my thoughts like one would into a blanket. I think of blankets. I think I put one in your trunk earlier this afternoon, along with everything else we stuck in there. Oh yes. We are foresighted. Luck favors the prepared, which would be us. I tap my fingers along my legs like I'm playing the piano.
I wonder if there's a piano where we're going. I wonder where we're going. But really, it's an adventure. Nothing matters.
As if to prove my point, your phone rings and you reach for it and press Ignore. I grin.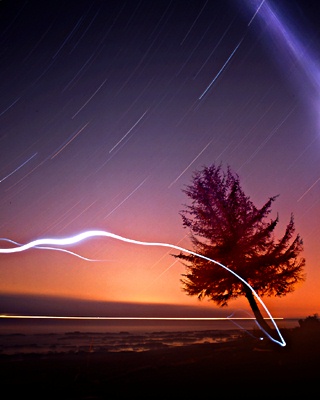 © Joey M., Spokane, WA