Roses.
July 27, 2011
Roses, roses, roses.
I didn't know why I was thinking about beautiful red roses. But then again I didn't know why I thought a lot of things. I just did.
Ethan walks into the kitchen and my heart nearly stops. The poor boy is covered in mud again. I stop washing the dishes and grab my rag.
"You were playing in the mud again," I attack his face with the soapy rag.
Ethan doesn't respond, as usual.
"You should really stop doing that; this is the third time today you've had to take a bath." I go to strip the little boy's overalls off and he suddenly squeals at me to stop.
Before I could scold Ethan for shouting at me he reaches in his front pocket and draws out a crumpled red rose.
"I climbed in the mud to get it for you mommy." He holds the rose out to me in his little chubby hands.
I bit my bottom lip to hold back the tears that suddenly sprung to the corners of my eyes. "Thank you." I managed to choke. I took the little rose and set it on a saucer in the middle of the little dining room table.
I turn around to tell Ethan to go take a bath but before I can he runs out the kitchen door and out into the yard again.
I look out the still open door and see Ethan start to play with his friend bill.
I let him go and decide that he can take a bath later. Right now I'll just admire my little red crumbled rose before it starts to wilt.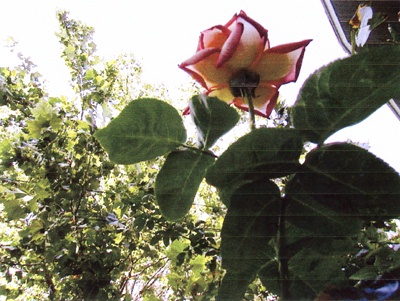 © Courtney P., Alpine, TX