Bedtime
July 12, 2011
Giggles erupted from the room next to mine. Little voices were talking in a whisper but slowly grew louder.
"Shhh!" Our mother hushed from the living room. "Your baby sister is sleeping." I let out a sigh knowing that that wont do a bit of good. Shure enough not even three minutes later the giggles started up again. Great now I'll never get to read in peace I think to myself. The girls have now begun beating on the wall. More than anything they're doing this to annoy me. But I've learned to put in my ear-buds and crank my music loud to drown them out. It hardly works.

My door swings open as Rue walks in. "Get Out!" I yell at her. She comes over to me and gives me a hug. "Night Stormy." She says in a fake sweet voice. I get up and push her out of my room. "Night!" I say with a smile as I shut the door. Her foot steps pattered on the floor as she walked off. Soon the girls were giggling again. Our mothers heavy footsteps pound over to their room. I hear to slaps as she spanks each girl. By now the baby is screaming bloody murder. The girls cries join in and now all I hear is three different cries, so I crank up my music even louder.

Everything has quiet down but there is still one child around and I have no doubt in my mind that its Rue. I open my door to see her walking to the living room. I grab her by the arm and lead her to her room. "Go to bed." I tell her in a strict voice. She just gives me a smug smile. "No." She then sticks out her tongue. I piked her up and tossed her on her bed scratching her in the process. Rue starts whimpering quietly. "I told you to go to bed. I'm sorry but you need to learn to lesson. You've all rely woken up your sister twice." She just curls up into a ball and faces the opposite direction. "I love you good night. Please just stay in your bed." "All right." She says in a sad voice. "Will you lay with me?" "No." I tell her as I walk back to my room. "But I love you. Now go to sleep." I walk away hating making my little sister cry but wishing she wasn't so stubborn and would start listening every once in a while.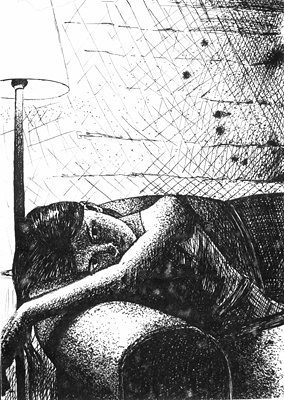 © Elisabeth R., Elmont, NY