Happy
June 26, 2011
The air was misty. The sand beneath me was hot, and almost burned my feet, but I didn't care. The waves crashed gently against the shore; when they pulled back they whispered, inviting me in.

This was where I wanted to go. This was where I wanted to be. This was where I was. And I didn't have to leave anytime soon. That just made me happier, the realization that I didn't have to leave my paradise.

There was no one around for miles. No one to disturb me, no one to bother me. I could do what I wished here. I could go for a swim, or just sunbathe. I could take my sketch pad out of my bag and draw the waves, just as they are about to crash. I could walk along the shore, breathing deeply, taking in the salty smell of the air, and enjoy the feeling of my hair being tossed back in the wind.

The only way that this could have been better was if…but I did not want to dwell on that. Not when I was feeling so serene, so calm. I hadn't felt this way in months. I'd forgotten how good it felt.

I settled for walking. Even though the dry sand was unbearably hot, the wet sand was just perfect for my purpose. I liked the way my feet sank ever so slightly into the ground as I walked. I wasn't so close to the ocean that I was totally soaked, but when the waves stretched out, my ankles were covered.

Nothing bothered me here. Nothing worried me here. All the little things that I wanted so badly to get rid of were gone now; swept away in the ocean wind. And they weren't coming back. Like my footsteps in the sand, they were left behind, and soon they were going to disappear in the waves. And, for once in my life, I could actually say that I was happy.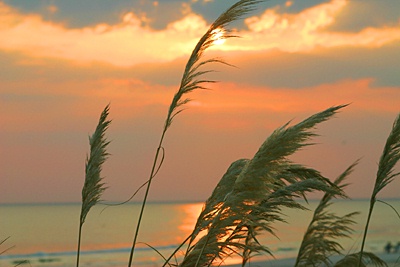 © Jonathan L., LaGrange, GA