Just Another Stop
June 23, 2011
It is winter in the city. McKenna doesn't know what city she's in; they pass by too quickly for her to take note of their names. Days go by in billboards flying past the Chevy's tinted windows. Evenings are made of yet another hotel room, each identical to the last, and a rushed dinner in a nearby restaurant. She and Yurity eat only to stop the pain in their stomachs. Then it's the familiar chill of thick make-up hiding her features, the sensation of red curls flying from her neck, and pulse of loud music in another club or another bar. She and Yurity follow the parties, because it's the only thing that seems like home anymore.

Now, she sits in a café while Yurity orders at the counter. The line is long and the people are sluggish; they move to the rhythm of the clock's second hand. McKenna sips cold, bitter coffee from a thermos she's been carrying with her throughout the day's drive. She sits in the corner's leather booth, placed against a wide window so McKenna feels as if she's on display and meant to entice peckish passers-by into the café's warmth. The radio on the counter plays slow, quiet jazz, and the smell of fresh cookies and scones fills the air like the finest of perfumes. Her mind drifts as she stares out the window.

In the dark of night, streetlamps cast strange shadows across the pavement. Flurries of snow, heavy and pale like tiny moons, blow in the soft gusts. A woman in a cardinal red coat runs past as if she's late for her future. McKenna wonders how much the woman sees, or if she is separated from the world by a thin film of indifference. An old couple dressed like posh party goers stroll past with the airs of English royalty. McKenna takes note of their path into the midnight blue, wondering if their snobby celebration is suitable for crashing. A group of teenagers, surrounded by a bubble of chatter and dressed for weather far more pleasant that this scurry along like intoxicated squirrels.

There's a nightclub across the street, all flashing lights and neon, reflecting off the table's shiny surface. And then it tall starts to blur together, like a Van Gogh painting, like a dream. A million shadowy strangers pass with the bearing of people with a purpose, so close to McKenna and yet so far away. The clank of glasses, the patron's laughter bubbling out like champagne, the footsteps, the lights, the subtle vibrations of the table as the world goes through its routine nighttime shudders. All this blurs together as her head spins.

Yurity appears in front of her, offering a blueberry scone. She's forgotten all about him, as she too often does. "Are you all right," he asks her, putting a frail, skinny hand on hers. McKenna lies.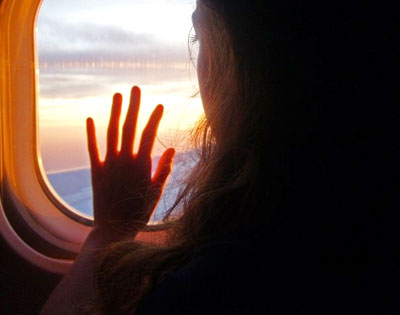 © Megan C., Nashville, TN