Psst!
June 5, 2011
"Psst!"
The only sound I hear around me. I looked up. The examiner staring at me with a disgraceful look on her face stood there.
I tried to pretend that I didn't hear anything.
"Psst!"
That sound again. This time I looked up at the right moment. The teacher was at the far end of the examination hall.
I turned to my left. Anchal was looking at me with a troubled expression.
"What?" I whispered.
"Six – G!" she whispered too.
"Um…photographs."
"Uh, thanks." She concentrated on her script again and I focused on mine.
"Psst!"
Oh Allah! What's the freaking problem here?
I managed to peek backwards. This time it was Islam. There was a blank bench between us, Hossain's seat. She couldn't join us to give this term exam because of pox. It's a common flu now-a-days. And I heard that it's extremely contagious. Poor Hossain! I feel so bad for her. May be she's intending to kill herself for not being able to help us in these exams.
"What?" I whispered again.
"Can you tell me 10 number the whole?" she asked miserably.
"WTH! Are you insane? We're gonna get caught, stupid!" I rolled my eyes, "If you need help in any particular thing you can ask me. But I just can't tell you the whole answer!"
"Then at least tell a few!" she was pleading.
"Ask Nishat!"
"No one in this row knows these answers!"
"Go to hell!" I turned back. She is a person who never helps anyone but hopes that everyone will help her unconditionally! What an idiot!
After a few quiet minutes … "Psst!" this time it was me, "Kashfi! Did you find the answers of number 10?"
"Yeah but I'm totally confused." She replied.
"Okay, whatever. I'll try by myself."
I took only one and a half hour to finish this exam. Then I reviewed the whole script looking for mistakes. After that I did some social works, you know helped others with their answers. But for once I didn't look at Islam. With still half an hour in our hands Kashfi and I got out of the examination hall.
It was completely dark outside though it was only 4:30 pm. It was indeed a sign of another possible rain-storm. You know how the weather is in mid-April. We enjoyed the weather very much. We had a lot of fun in the rain and returned home all drenched in soaked cloths. It was really awesome after a great exam.





* * *

A girl is walking under the rain. Her cloths are soaked. Her long brown pig-tails are also wet. She just looks like a wet-crow right now. But she doesn't seem to care. Her sight's running miles and miles per second towards the horizon, who knows where it'd end! All that's going on inside her brain is that she couldn't answer number 10 today. It was one of the easiest questions of all time and she had to leave 10 marks totally untouched because she didn't know the answer and everyone refused to help her.
At this moment her future seems absolutely dark. It's totally undetermined. She doesn't know what to do now. She has never faced such a situation.
After reaching their house she rang the bell, waiting for her mother to open the door. A storm of thousands of thought is going through her brain. Tearing apart her synapses and tangling all the critical threads. She still doesn't know what to say to her, because she has nothing. She never felt this way before.
Her mother opened the door and looked at her daughter's face, "Sharna?" Mrs. Islam felt tensed checking out her daughter's blank sight, "How was exam?" she asked again.
She didn't answer as she had nothing. Her whole world started to spin. Thousands of stars appeared before her eyes. She started to fall down. Mrs. Islam caught her right away.





* * *

It's almost 2 in the midnight. Islam's lying on her bed. Her face pale as chalk, her large honey-colored eyes seem even larger because she's just skins and bones now. Her body temperature is crossing 104 degree. Her skin's burning because of that. After that day she couldn't attend another single exam.
Mrs. Islam was sitting beside her waiting for the end. The doctor just declared a few hours earlier that Islam has only a few more hours. So may be this is it.
But suddenly Islam's eyes lightened up. Her mother felt energized. She stood up eagerly and brushed her fingers through Islam's long dry hair tenderly, "Are you feeling any better my child?" she asked.
Islam beamed.
"What exactly happened that day, Sharna?"
"Psst!" Islam whispered, "The examiner's gonna hear us! Can't you see that she's standing right there?" she seemed annoyed. After that her eyes started to go grim again.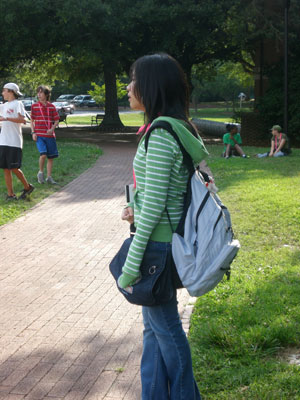 © Lucienne B., Parkland, FL