Who Doesn't Like Coffee?
January 1, 2011
Balancing on that blue, rubber yoga mat, feet behind my head, pads of my fingertips holding me up, that's when I feel the most relaxed. That's when I stop thinking about everything that is going on in my life, my mother in the hospital, my father out of work, my sister pregnant and getting a divorce. I'm aware that from the outside this position looks stupid, but everything seems so much more peaceful when I'm focused on not falling. It's not like I'm not coordinated, I am, but it seems that everything going on in my head weighs my top half down, and I tumble, embarrassed, onto the cold, tile floor. The man next to me tries not to laugh, tries to keep silent like they tell us we should do, but he fails. He's not too wonderful at yoga; I often wonder what possesses him to come week after week. He rarely does the positions right, it seems more or less like he just enjoys watching people like me make fools of themselves. He probably finds no relaxation in this at all. It's men like him that make everything so difficult in life. If it weren't for men no woman would have to feel judged or be laughed at every time they make a mistake. No woman would be antagonized or taken advantage of, just because of her looks. But I might just be saying this because I'm single and have been for over a year. And I do think the man on the mat next to me is attractive, however he is not serious about yoga, and therefore I want nothing to do with him. If he's not serious about something as simple as yoga, he can't possibly be serious about complex relationships. He's never talked to me anyways, nor have I talked to him. After class we go our separate ways, me uptown in a yellow taxi to visit my mother, him walking across the block to the Starbucks. Yes, yoga and a latte, sounds delightful.


That klutzy woman next to me looks like she's about to fall again. She looks angry, like even she knows that as hard as she tries to concentrate she will never be able to balance like she wants. She is beautiful though. I feel bad when I laugh at her for falling, but she is the only woman I have ever met who can look graceful as she falls. Not that I have met her, I don't have the courage to go up and ask her name. She seems to sprint out of class every week, flagging a taxi and going uptown as fast as possible. I would like to invite her to have coffee with me some day. I doubt she would ever want to have coffee with a man who does yoga, and laughs when she falls. She probably thinks I'm just a pervert who goes to the classes to stare at the pretty girls in their contorted positions, dreaming about what they could do outside of the class. She probably has better places to go after class then out for coffee anyways. She probably meets her boyfriend for hot hookups in his fancy Manhattan apartment. Or maybe she works three jobs and can't afford to be late for them. I come up with stories about her every class. I can't help but think about her habits, her house, what she looks like in every day outfits instead of sweats. She's even more beautiful, I'm sure. I wonder if she likes animals, if she works at Macy's, if she even drinks coffee. That's crazy, who doesn't like coffee?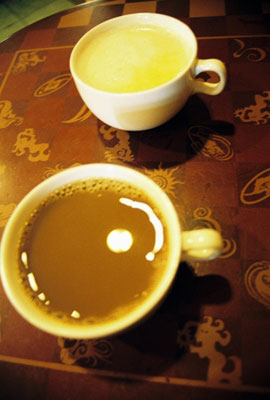 © Jaci S., Duluth, GA