The Cancer Monologue
December 26, 2010
I know I swore I wouldn't give up on living, but the doctors won't even tell me I still have a chance anymore! When the nurse comes in she smiles, but it never reaches her eyes! My family doesn't even visit me anymore. They don't want to remember the sick me! My husband hasn't even brought my own son to see me in two months! Last time I saw him, my son didn't even know I'm dying. What will my husband tell him when I'm gone? This pain is only getting more excruciating! Who knows how little time I have left?

There was so much that I had planned on doing in my lifetime! I was going to go sky diving and bungee jumping! I was going to run the marathon! None of that even matters now! After all, I can barely walk. No one has even called my parents yet. I've tried to bring myself to call them. I've tried to tell them I'm dying, but I just can't do it! I haven't spoken to them in three years! And now I'm expected to tell them I'm dying? I want to believe that by some miracle I might get better, but it's kind of hard to have faith in something like that when you are bound to a single room! It's four simple walls! As far as I'm concerned it may as well be a card board box! It leaves me feeling so trapped! These walls slowly close in on me more and more everyday! I'm beginning to forget how to breathe!

I constantly find myself wondering if this life is even worth living anymore! But this isn't really life, is it? This isn't living! No matter what my family and friends would like to believe, I'll be gone soon! As dim as that may seem to you, is it really that bad? The suffering will be done! It's time for me to go home now! I'm done being miserable! I'm ready to leave this sad place! I'm ready for a real life. I'm going home!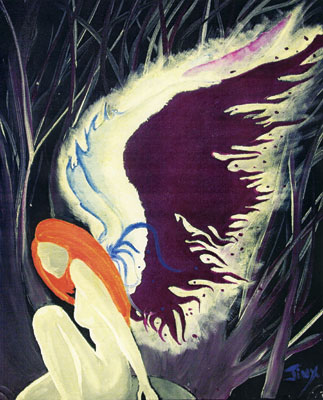 © Megan B., Youngstown, OH