Marisol's Story
December 26, 2010
Once upon a time in a land called New York City, there lived a 15 year old girl named Marisol. Her father was the mayor of New York City and her mother owned a dance studio where many famous dancers came to work on their technique and routines. Marisol loved to go down to the studio with her Mom and watch all the dancers. Marisol had always dreamed of becoming a Prima Ballerina, but her father had different plans for her. Her father, Mayor Charles Winstoff, had it set in his mind that his daughter was going to follow in his footsteps and become a Mayor some day. Marisol on the other hand, had no intentions of becoming a mayor or in fact doing anything that had to deal with politics. Marisol's mother wanted her to become a Prima Ballerina just as much as Marisol wanted to, but Marisol's mom was always so busy with all the other dancers that came to the studio that she didn't have enough time to focus on Marisol.

The years passed by and Marisol decided that she was tired of sitting around just dreaming about her dreams. She wanted to make her dreams come true, no matter what anyone else thought. So she decided to firstly move out of her parent's house and move into an apartment, she figured that that way she would be able to focus more on her dreams and not have to deal with the negativity of her father. Secondly she decided to enroll in some dance classes at some of the top-of-the-line dance studios around. Her mom supported her on this decision, but her father thought that it was totally wrong and that it would ruin her chances of ever becoming a mayor, Marisol could care less about it ruining her fathers dreams of her becoming a mayor. Being a mayor was not in her future plans. Dancing was.

After one year of training and dancing six days a week, Marisol decided that she was ready to start looking for auditions. It was late October and many studios around where starting to get ready for their performances of the Nutcracker. Marisol went to as many auditions as possible trying as hard as she could to receive the roll that she wanted…Clara. She had gone to five auditions so far and was feeling pretty hopeless when she saw one more audition. She thought that she might as well go just to see what would happened. When she arrived at the audition in her pink tights and black leotard she noticed all the other girls warming up. She immediately thought "these girls are way too good, I don't stand a chance." She was considering leaving but she knew that this was her dream, her passion, her EVERYTHING. She had to stay, even if she didn't get the part she wanted, it would be good experience.
Forty-five minutes later a dark haired woman in her fifties stepped out of the audition room and said "Number three-hundred and ninety-two, it's your turn". Nervously Marisol stood up, took a deep breath and followed the woman into the room. Sitting at the front of the room where five judges. A tall bald headed man, a short grey haired woman, a blonde haired woman, a blonde haired man, and the mayor of New York City, Marisol immediately thought to herself "what is my father doing here, as a judge?" But she decided to not let it bother her and she took her position and waited for her music to start.
After she finished her dance the dark haired woman escorted Marisol back out into the waiting room. Now Marisol would need to wait until all the rest of the dancers had auditioned and then the judges would deliberate and essentially choose ten girls to come back in and audition again.
After what had seemed like forever, all the other girls had auditioned and the judges had deliberated and now it was time for them to announce who was going to be coming back in and auditioning again. The dark haired woman came out into the waiting room and said "the following girl's are the possible candidates for Clara, if your number is called please come back tomorrow morning for your audition, "Numbers 122, 432, 322, 437, 578, 32, 90, 3, 66, and 392." Marisol was ecstatic! Out of six hundred girls she was one of the top ten coming back to audition again! They really liked her and she couldn't believe that this was actually happening to her.
By noon time the next day the auditions were once again well under way and they were down to their last three girls. Seven girls had already been eliminated. Marisol was one of those three girls that were left. The butterflies where building up inside of her and she couldn't take it anymore. She felt like she was just going to float away. She was bursting with anticipation and nervousness. The girls did what the judges asked and then after ten more minutes the judges had to eliminate one more girl. Marisol was so nervous she didn't even want to listen. Then the dark haired woman said "Number 3 you are eliminated". Marisol was still in the running for the lead role! With only two dancers remaining, the nervousness was sensed everywhere in the whole studio. Marisol was nervous but she was extremely excited that she had made it this far in the audition process for a role that she had always dreamt about!
Marisol and the other remaining dancer were given one last combination, the combination that would essentially determine who received the role of Clara in this years Nutcracker performance. Marisol stood in fifth position and took a deep breath as the music began, she slid into first arabesque and began to waltz to the music….Just then, her alarm clock rang and her mom yelled up the stairs telling her to hurry up or she would be late for school. Marisol could not believe that what she had just experienced was a dream. She could have sworn that she had was actually there dancing and auditioning for the nutcracker.
She jumped out of bed and ran down stairs and started telling her mom all about her dream. Her mom thought that that was very exciting but her dad just sat there laughing at the story and then he finally told Marisol "It seems like dancing is something that you really love, so I have decided that if that's what you want to do you can do it. You don't have to become a Mayor just because that's what I want you to do. I love you and I want you to do what makes you happy." Marisol jumped up out of her chair at the kitchen table and ran over and gave her dad a great big huge hug and thanked him. "Marisol, you are going to be late for school hurry up" said her mother. Marisol couldn't wait to get to school and tell all her friends about her dream and then about what her father had told her!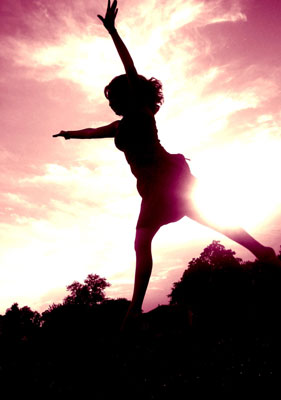 © Martha V., Morton Grove, IL