They won't hear me
November 26, 2010
I sat in the back again. They didn't notice me, but that was no surprise. They don't even seem to realize I'm still here. Cause all the girls are focused on how to get my two genetically impossible beautiful brothers, using me as a key to them occasionally. They tried to hang out with me, but we have nothing in common. I'm not stick thin, play any sport, have a line of guys that go out the door begging at my feet, allowed to get anything I want, have a million dollar net worth closet, or effortlessly beautiful. Especially that last one. Even though my brothers are Trey Songz hot, I'm not. Adults say I'm beautiful all the time, but they just say that because they're eyes start to go bad. If they wear glasses, they just say that to make us feel better. But then when all the guys come around they all say I'm ugly. My brothers say they're lying, but I don't believe it because they all go up to other girls and give a five minute monologue on how hot they are.

I wish I could tell someone this, but no one understands. They don't understand because they can't listen well. Which for me, sucks because I listen to their nonsense nonstop and they can't even stand two seconds of me? I don't get it. So I go around keeping it inside, and I hate it because no matter how hard I look there's no one who will listen AND understand me.

I don't even know what happened. This summer, we all got so close, doing everything together and spilling out our guts. Then school started and…it got weird. They got all cliquey again, and when I walked in the room no one even bothered to say hi. When I acted all sad for the rest of the evening, no one noticed my frown that was pasted on my face the rest of the evening or my low energy and lack of enthusiasm. It kept going like that, so I started talking to the ones in middle school again, because they were the only ones who would talk to me. I hated it because I thought when I entered high school I'd be able to talk to them more, but that was obviously not the case.

As I got up to go to the bathroom and cry again, I felt someone's gentle touch on my shoulder. It was Mrs. Ann. "Are you alright hon?" I nodded, but she didn't buy it. "Is something at school bothering you?"

No, no. School was fine. It was a little boring, but that's Ok. "I like school."

"Um…home?"

"No."

She smiled warmly, prying the right answer from me.

"I'm kinda low on energy and I didn't sleep well last night."

She nodded knowingly, and let me move on. The lovely thing about being honest all the time is when you need to lie, people will believe you.

I locked the door and sit on the chair in the handicap stall. And cry, praying that someone would be willing to listen and understand me the way I listen and understand people.

Someone knocked on the stall door.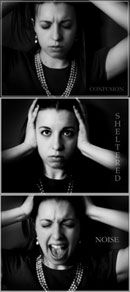 © Michelle B., Blairsville, GA