She Had Better Not Hurt Him
August 21, 2010
I click off her facebook page in anger. I don't know why, but it boils my blood to see him on her friends list. Just reading his name, there next to the names of useless flirts and false friends gives me the intense urge to punch someone. I see his profile picture, and even though he is cut out of the thumbnail, I curl my fist, wishing she was here, falsified face creating a perfect target.

These feelings are strong in me, yet I really don't understand why. It's not like he's my boyfriend or anything, and even if he was, she wouldn't be competition. Sure, she is pretty, but they would never happen. She hates his guts, and he has called her a loser more times than I feel the need to count.

I don't even know why they are facebook friends. She probably just wanted more names on her list, because I guess 576 didn't make her popular enough. And having a grand total of five friends, then just a lot of family, of course he accepted. Even if we were going out, I would have no right to jealousy, as I know the friendship does not expand past the pixilated thumbnail of him hanging around with his guys.

But maybe that's what makes me angry. The artificiality of it. I know what she is, a heartbreaker, a flirt. And if he is smart, he will know too. But what if he isn't smart? What if he falls for her.

I am in no position to interfere, or even know or care about what goes on in his life. Hundreds of miles apart, we have talked very few times since I moved away. Still, love doesn't fade. He was my best friend. He is my best friend. But nevertheless, here I am, hopelessly out of reach, grasping at fading memories and pixilated photographs. I have no right to be angry with her, but still my veins burn with passionate fire.

Don't think of me the wrong way. I am not a controlling person. It is just she has hurt me as well, breaking our friendship along with my heart in eight grade. He is just a friend to me, but that doesn't mean I can't love him. And I do love him, too much to sit contentedly, checking her page for gossip and ignoring his picture.

He can be friends with whoever he wants. I really don't care. But he is strong and sweet and brave, and I don't know if I could bear it if I knew he had been hurt. Especially since I know he would try to tough it out on his own. I know how her sugar-coated personality can lull you into comfort. How she can convince you to trust her, but when you get to know her, when you bite down, the sugar gives way to lemon – sour and bitter, leaving you with a awful taste in your mouth and begging for water. I know first hand, but he doesn't.

I know it isn't a serious friendship. I don't even know if they have talked since Sunday school in fifth grade, back when she was sweet all the way through. But I can't keep myself from wondering. I can't keep the fear at bay, the fear she will hurt him in a way impossible to repair. So I sit and I stare at the computer screen, blood coursing hot and angry through my body. She had better not hurt him.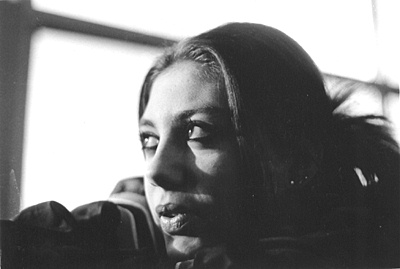 © Michael C., N. Massapequa, NY