The Four Written Words
June 3, 2010
She speaks the words
But only in her mind.
She watches him.
Longing.
Wanting him to know the truth.
He sits there.
He's like an angel… She thinks smiling.
He lifts his head up, halting the soft melody coming from the strings
He glances at her.
She gets up and walks over to him.
As she opens her mouth to speak, he starts playing again.
He looks up. A wide grin stretches across his face.
"I love you." he murmurs, then looks back down at the guitar.
She looks up from his moving fingers. "I know."
He smiled. "Just thought I'd remind you."
"You've been doing that a lot lately." she grins.
The corners of his mouth twitched but he didn't smile.
She searched his eyes. "What's wrong?"
He stroked the strings and didn't say anything.
It always ended like this.
But she wasn't going to walk away this time.
"Please tell me." her voice quivered.
He glared at her. "No." he said, furious, "It's your turn now."
She seemed confused. Which only made him angrier.
"I told you I love you! Doesn't that mean anything!?"
Her eyebrows formed a worried line. "Of course it does."
He looked away. "Then why didn't you say it?"
"Say what?" She said. But she knew what he was talking about.
She 'accidentally' dropped a paper on the ground and walked away.
He picked it up.
Written in cursive were four words:
I love you too.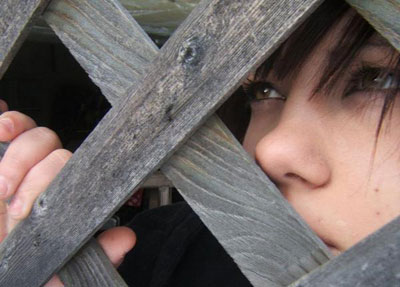 © Krystal B., Bloomingdale, IL