Nothing You Can Do
May 1, 2010
The first day of 9th grade. Most kids were shopping for back to school supplies, picking out their outfits, or gossiping about how Rachel Allen is starting the year with a hot junior boyfriend. But I wasn't doing any of those things. I never did. I was standing in front of my full length mirror doing my "exercises." They were important. For an hour each day I stood in front of the mirror criticizing how I looked. For motivation, of course. It was very important, unless I wanted to be fat!
I checked my phone. A new text message. "Great." I muttered to myself halfheartedly, "Another distraction."
It was from my sort-of-but-more-like-former best friend. She wanted me to go shopping. "Can't" I typed, "Running errands for my mom, then going to some dinner end of summer thing. Sorry :(" Okay, so it wasn't true. But it was for my own good. I could go shopping when I was thin.
It was burning hot but I went running anyway. I ran until my legs couldn't hold me anymore. Then I felt into the grass and puked until I was empty. Then I jogged home. I was so used to it now, it was a routine, and my body already knew what was coming.
At dinner, my mom looked worried. "Honey, didn't you listen to the therapist and doctor. You have to eat all your dinner." She looked truly concerned, and even a little angry. For a second I felt a wave of guilt, but as passed like always.
"I can do what I want, and you can't force me. There's nothing you can do about it." I smiled smugly, but inside I was dying. I put my played with food in the sink and sauntered to my room.
All of 9th grade would be this day over and over again. Lying, distancing myself, telling people they couldn't force me, there was nothing they could do about it. Eventually all my friends would fade away, but I told myself it was for the best. Less distractions. When I was thin I could have all the fun I wanted.
But I didn't know that I'd never have that fun. That I'd eventually starve myself to death. And I was right. There was nothing anyone could do about it.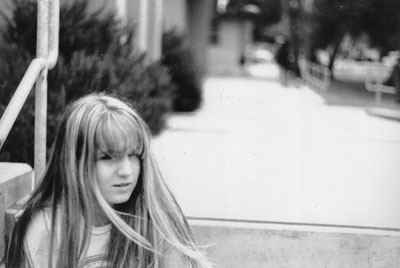 © Alyssa R., Pacific Grove, CA