Not Anybody
April 17, 2010
The sun is burning orange and the grass is bleeding green
the sun is burning orange and bleeding the grass of it's green
"I'm going to break your heart Angela and it won't be easy for either of us. But I'm going to break your heart and I'm going to make it quick."
"Hmm, that's funny, it seemed pretty easy for you just now and how is something like a broken heart 'quick'?" I eat one of my crackers, bounce up and down for a while, then I decide it's a good time to put a few blades of grass around her head to make a crown that fits a queen such as her.
"STOP it, Angela. I'm trying to be serious here."
I guess she didn't appreciate the gesture. I tilt my head and look at her strangely just to make it difficult. She makes the face she does when I make things difficult. I smile. She frowns. She also does not appreciate me making things difficult.
"Is everything a joke to you?" I laugh at the funny joke she's just made. "You're making it difficult…"
"Jessica, Jessica, Jessica. How on earth do you expect me to take you seriously when you do this about once every few months?" I smile a bright grin at her and tuck her hair behind her ears.
She slaps it back out and it hangs in her face angrily, but she's too busy being angry at me to be angry at the hair getting in the way of her being angry at me. My grin fizzles and I play with the grass and pretend it's a field full of the beautiful strands atop Jessica's head.
"Angela, look at me,"
I shake my head and keep my eyes firmly locked on the ground.
"You're acting like a child…"
I look up at her my jaw locked. "I am one, Jessica."
"And stop calling me Jessica, I am your mother."
I look at her calmly and fiercely. As fiercely as a twelve year old can look with daisies scattered sporadically in her hair and fresh dirt on her face. And I say to Jessica, "No you're not. You never were my mother, you never will be. Not until you grow up like I have to. Not until you grow up and realize how wrong it is to make your child an adult at the age of twelve and not feel guilty about it because, hey, you're just being you!"
"Hey, I didn't ask for a kid! I didn't ask to be a sixteen year old mother. So, cut me some slack okay?"
I lay a daisy on the ground of my mother's grave. Where ever she may be. Up in heaven I suppose. Shining down on me and wishing me a better life. May she rest in peace… "Tell you what, Jessica, I'll cut you some slack when you cut me some, huh?" …She will be missed She will be forgotten. "Oh, and Jessica," She looks up warily. "In the next life, save a kid the trouble of being your daughter and keep your legs closed at sixteen f*****g years old!"
Normally she would have told me to watch my mouth. Normally she would have told me I was grounded, or beaten me like a loving mother. But Jessica is anything but normal. So I didn't look back, because I know what I'd see there. Nobody.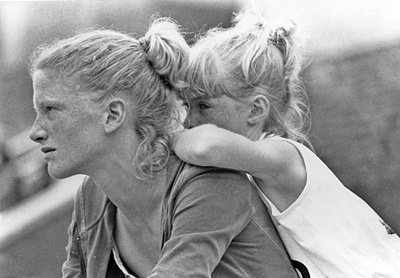 © Felicia F, Marlow, OK