her wish
March 9, 2010
Normally she had more pressure in this situation; blow out all the candles and get one wish. At least instead of eight she only had to blow out one. The party surrounded her, streamers and confetti rained from the ceiling; Goofy hats that look like dunce caps more than anything were placed on everyone's head. There was noise bouncing off all sides of the room, there was even a very distinct noise of a goat as well. She puckered her lips to blow out the one candle to get her one wish that she always wanted. Her mom pressed the big black button on the camera telling all the little gizmos inside to do what they are supposed to do in order to take the picture at hand. There was a flash of light brighter than the sun for only a split second. And there it was the picture of her about to get the one wish she always wanted.

The birthday party was basically a suck. Everyone was too drunk and happy that the Raiders were about to win the Super Bowl, and not happy enough for her to be one more year older. She spent most of the night crying in her bedroom snuggling up next to Mr. Fuzzy. She wished to see her favorite uncle. Uncle Steve, they used to have so much fun together. Then the accident happened. She was devastated by what had happened to him; all she had left of him now was mister Fuzzy. Mr. Fuzzy was a pleasant lad with a long grey trunk, two big floppy ears, and a nice blue shirt that just made him perfect for her. Fuzzy and warm to the touch, he made all her bad dreams and horrible birthdays float away.

The whole party jumped towards the stars, chips and drink followed. The slapping of hands and the breaking of new dishes was heard. There was a long and loud thumping of footsteps that seemed to never end. The footsteps went up the stairs down the hall and stopped outside her door. The door opened and into the darkness came a floating small cake with one lit candle just for her, she was ecstatic to know that even the cake didn't forget her birthday but everybody else did.

Then there was the flash of light showing that everyone at the party had managed to get into her room without her knowing even the party streamers and balloons made it. She looked up in to the flash of light seeing only one person; Uncle Steve with a brew in one hand and a sardine in the other showing the historic double thumbs up and grin as wide as the ocean. His mustache seemed to hide the space between his nose and lip, a thick forest of dark brown hair. Those ridiculous cop glasses that cover almost his entire face always put a smile on her face.
She blew out the candle with her wish in mind. She awoke in Mr. Fuzzy's arms in bed; the darkness of night still present in her room. She hopes her birthday is going to be as good as her dream.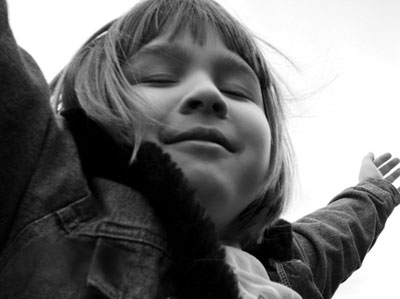 © Morgan C., Fridley, MN