Wanted Or Not
January 14, 2010
Many believe true love is a fairy tale. Of course everyone has love but true love is overrated. Two teens believed they would once have true love. When, where, how, or who they didn't know. Who: Kylene and Camden. When: their eighth grade year. Where: the small city in the middle of Texas called Longridge. How: Well……
Kylene is seen as one of those normal girls to some people who don't really know her. Although, if you are friends with or just know Kylene, you know how she really is. Kylene is a one in a million girl. She plays soccer, basketball, and is in track. She sings (off key) in the halls and classrooms. Kylene is wilder and crazier than any other girl. She has had her own share of pain, even though you can't tell. Her relationship end either badly or they just end.
Camden is the boy. The boy who everyone knows and loves. Camden isn't one of those popular guys who is misunderstood, and is really guy who just loves art. Camden is just Camden. He plays football and basketball. He has moved from place to place leaving behind friends everywhere he goes. He sings (off key) in the halls and in classes. He is loud and funny; happy and loving. His girlfriend Kyla sure does love him.
Kylene knew Camden, heck how could you not? Everyone knew his story. Kylene talked to him every once in a while. Nobody thought this was strange. How on Earth could Kylene be a threat toward Camden…or his girlfriend Kyla? Kylene didn't even think this was a big deal. Although, this little town, and little school, learns that sometimes love is blind.
Kylene began to have feelings for Camden. Of course, almost every girl did. At first, she thought this was a horrible thing. It'll NEVER happen so I don't know why I try. So she tried to push him out of her mind. Her thoughts were now permeate though. She noticed his every move. From walking down the halls to trying to hide the fact that he was chewing gum in class. So Kylene knew, she liked Camden. She also knew, her dreams wouldn't come true. How could the guy with all the looks and great personality like the girl Kylene was? Kylene saw herself as a ugly, tomboy who couldn't get a nice guy to lay eyes on her if the world stopped spinning.

Camden loved his life. He had the friends and the girl. How can you complain about that? His life seemed so planned. If this was good or bad Camden didn't know. Camden did know that he was itching for a difference though. Maybe just something small like working harder in classes. He couldn't think of something big that needed to be changed. What Camden was doing wrong was he was thinking about what was needed, not what he wanted.

Kylene thought it was a dead end street. Nothing could change the way Camden felt. The only thing she could think of was telling him and she was too afraid to see what would happen. Everyday though, Kylene would write on her wrist, 'I love him' then hide it from the world. Until one day, her game of hiding didn't work out.

She and her two friends, Ashleen and Vallory, were walking through the hall and Kylene showed them her ink tattoo they began seeing printed on her wrist daily. What Kylene didn't know is that Camden was standing right behind her as she showed them

"Hey Kylene, who does that mean?" Camden asked scaring every girl. Nobody needed to turn around; they all recognized the voice, Camden.
"Ummm…?" Kylene said uncertain.
"Oh come on you know you can tell me! I know everyone so maybe I can talk the guy into it." He said smiling at her. Lord she loved that smile. She had an idea and the conversation had the perfect setup.
"You promise that you will try to get us together?"
"Well do I know him?" Camden asked smirking. She loved the smirk just as much.
"Yeah you know him." Kylene stated naturally. You know him more than anyone else. She thought to herself.
"Okay. I promise. Now spill." Camden asked excitedly as if it was Christmas morning. All three girls exchanged looks then Kylene stepped forward and took a deep breath, "You." She said then the girls left quickly, without looking back.

Camden…well it wasn't the first time a girl had liked him. Or the first time a girl had told him so. So why would it matter? This is the question that haunted him. The tight feeling in his stomach would release. When he tried to think about Kyla…he saw Kylene. Just how she always would brighten when she was around people made Camden smile. Her sense of humor and courage was almost unbelievable. Camden couldn't control the thoughts. Soon he realized, as he pulled out his phone and searched for Kyla's number, that his promise would have to be kept.

Kyla heard the news from Ashleen and almost passed out. Why on Earth would he break up with her!?!?!?!? She thought about him every second now. Maybe her hopes where coming true?

Camden met with Kyla in person and said he had a promise he had to keep to someone special that didn't involve her in his life anymore. She didn't understand and go t mad like he knew she would. The knot in his stomach loosened but he knew what would make it feel relaxed again…but what he didn't know was how his heart would feel.

Camden waited after school and watched the girl's basketball team practice. Then he waited as the teams filed out of the locker room.

Vallory saw him first in the gym as the girls were running. She leaned over and elbowed Kylene in the side and nodded her head towards him. If it was fear or excitement in her eyes Vallory didn't know. If she could guess, she would call it love.

As Vallory and Kylene exited the locker room Camden sat up straighter. Vallory hugged Kylene then began to leave.

"Good luck. Don't be so nervous. Stop shaking Kylene everything will be fine! Just be you…everyone knows you don't have a problem with that!" Vallory whispered in Kylene's ear as she hugged her goodbye.

Kylene didn't know if she should walk toward Camden as Vallory left but her worries where answered by the sound of footsteps coming off the red bleachers.

Camden was nervous. More nervous than before a big game or test. As he walked toward Kylene he couldn't tell what her emotions were. Scared out if his mind he just kept walking.

She looked at him in the eyes when he finally reached her. The only thing he said was, "I found that guy. I talked him into it. So what do I get for keeping my promise?"

He wasn't expecting anything. He was so just kidding. But Kylene apparently didn't get that. Not that Camden complains about it or anything. He just wasn't expecting Kylene to kiss him. Well, that Kylene for you.

So there it is. A really live true love story just like in the books. Kylene is the ultimate Cinderella, Pocahontas, Snow White, Sleeping Beauty (especially in class), Ariel, Jasmine, and all the other Princesses…but she always says that you can't find a prince better than her Camden.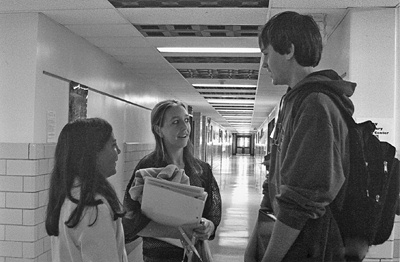 © Kathryn K., Pompton Plains, NJ