Sound
October 9, 2009
Looking back, I see huge dark, purple waves. Immediately I see my life flash right before my eyes. Terrified, I hear a thunderous crash. The sound feels as if it's ripping right through my ear drums, deafening my tan ears. I hit the dark water and the rough waves take me underwater. Somehow my body seems to float back to the surface. But, I still wasn't safe. I saw my board next to me and clung to it.

Furiously paddling away from the waves, I dragged my surfboard and my weak body to shore. Exhausted, I lie upon the soft white sand and hear the seagulls' wings flapping above me. Still scared and shocked, I listen to my thoughts rush through my head. That was so close Inga! I was nervous to look at the big ocean in front of me; I slowly start to peer up at it. I see one of the most beautiful sights I've ever seen. Also the most dangerous thing I've ever been in.

Still sitting on the sand I listen to the waves. Violently the waves crash against each other. They hit the rocks louder than a wolf's cry. While my thoughts were so lost upon the ocean's beauty, I become a bit startled when I am accompanied by the noisy seagulls once again.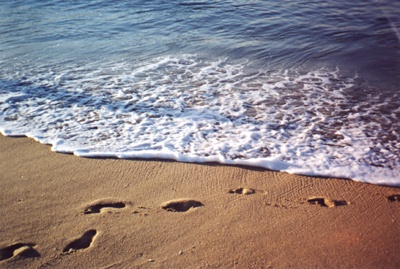 © Daniel M., Phoenix, AZ