Breathing together
July 23, 2019
"What a day", said Amal while gliding his hands through my hair. In the meadows we sat together feeling everything and keeping it safe until the last breath. While we were enjoying the view, he broke the silence and said do you know why the sky is blue? I cleared my throat to say, Oh yes I know. It's because the sky is always feeling blue, laughed effortlessly. Breeze embracing us, he slapped his forehead, tried to say something, stopped in the midst and smiled. That was good but the real answer is, in the seven colors of rainbow blue has the least wavelength so it scatters more. Okay should I call you a "science geek"? He blushed, took his right hand from the grass and slithered my nose between his index finger and middle finger bowing to my nose. For a couple of hours we sat there, watched the clouds making weird faces as we always do. Up above us birds were coming in groups for migration it seemed, because the climate here had attracted us too. The soils seemed it could create a forest with wilderness, a home for wild animals, wild flowers, but it was a reality long gone with its children.
I patted his head, asked, Can we walk? We stood up and walked along the fields almost touching our hands. Numerous grasses dying, half living all the way under our feet and we realized that even if we have choices, we choose not to choose, maybe that's why life is so complicated, messy and cool.
We always start our conversations with weird topics and end up saying things that make sense, so I started the conversation, so unusual, usually he start the conversation about his schoolings or science.
I asked, why do you want to spend time with me? He just poked his nose, for a moment thought about it, stared at me and finally spoke in a low voice, I do not know, I just feel so.
Oh that is so poetic. Don't ask me why. I feel so too.

See that bird? Do you recognize that bird? That's 'Red Wattled Lap Wing'. They make a sound; I love it, humming along with the bird.
Oh! Look a souvenir. It's a tree bark, you should keep it. He grabbed it and put it in his pocket with a satisfied smile.
We couldn't stop praising the weather, everything seemed so imperfectly perfect. While walking through the woods, sun rays broke in through the branches of the trees and everything gleamed in pieces even us. The shadows of branches danced on his face that made me kiss him on his lips. The silence entangled us but the wind sang songs along with branches about the darling kisses of wind. Bees murmured the sweetness of honey from flowers, flew in different shapes as we drew pictures in our childhood. We stopped in the midst and looked on all our sides, felt so blissful in the heart. We held our hands, knew where to go but we chose to stay for a while, we chose to live now for a while, we looked around and then us, smiled with an eternal peace and breathed the fresh air of love, life, and all the broken yet beautiful things in life.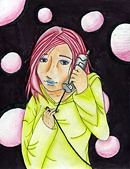 © Emily M., Milford, CT