Silent Tears
February 9, 2019
The mirror had fogged; the bathroom door was closed and the condensed air filled the room in such a way that the space felt humid. I turned off the shower's stream of warm water and daintily nudged the door, which swung wide open with a creak. Sighing heavily, I combed my wet, tangled hair and smoothed moisturizing cream over my face. As the condensation cleared, I examined my features in the reflection. Small eyes, thin lips, and blemishes were all I saw.
I looked down at my phone to see the clock's digits light up on the screen. I cursed under my breath, scrambling to get dressed in my too-tight jeans, boxy t-shirt, and threadbare jacket that almost reached my knees. I briskly walked into the closet to shove my feet into my previously white sneakers. "Time to go, sweetie!" I heard my mother shout from downstairs. Her words weren't demanding, but I could hear the impatience in her voice. I was dreadfully late, once again. "Coming!" I replied as my eyelashes fluttered near the mascara's brush. I simply couldn't leave the house without a bit of makeup.
I slammed the car door shut and buckled my seatbelt with impatience. My mother sat in the driver's seat and squinted to read the navigational directions on her dilapidated smart phone. "Mom, I can do it." I said as I swiped the phone from her grasp. "What would I do without you, huh?" she asked, prodding my shoulder.
"Left on Marigold, right on State Street, then keep right to the 5, exit on-" I began, but my mother's emphatic voice cut me off. "For Pete's sake, kid, slow down!" she exclaimed, gesturing with her right hand while her left gripped the steering wheel. She was wearing thick, dark sunglasses, but I could still see her darting eyes scan the road underneath the transparent lenses. I knew she couldn't see my face, so I rolled my eyes with sarcasm and cautiously read the directions aloud.
After minutes of mumbling street names, I slightly opened the passenger-side window to let in a breeze as the car raced down the open highway. As soon as the fresh air grazed my cheek, I felt a crushing weight within my chest. Without warning, without reason, without logic; my vision blurred as my eyes filled with silent tears. The ones that precariously drip down your face as you become frozen with static emotion. The ones that you are able to wipe away at a moment's notice if someone cares enough to question your stillness. My fingers felt numb and the hair that billowed in front of my face didn't seem like my own. My thoughts had been emplaced into an endless loop of regret, guilt, and anger. Regret, guilt, anger. Regret, guilt, anger.
And then it stopped. I blinked hard; allowing the remaining tears to fall and quickly wiping them away on the cotton sleeve of my jacket. I glanced over at my mother and then looked down at my icy hands. With the slight turn of my head, I caught a glimpse of myself in the side mirror of the car and stared at the reflected image. Only this time, I didn't see my eyes or lips or blemishes. I saw someone I truly recognized.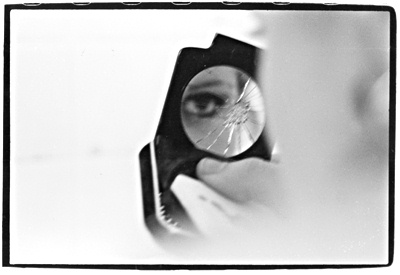 © Heather W., No., Brunswick, NJ