Lewis 'Chesty' Puller: Going Where The Guns Are
September 9, 2012
I sit in class, pretending to pay attention to our history teacher. My eyes search the room for Lewis. I spot him listening intently to the lesson. Of course he is; this lesson is about Stonewall Jackson. Honestly, I don't see Lewis's fascination with the guy. Yes, Stonewall Jackson had guts, but seriously? His own team shot his arm, he had to have his arm amputated, he contracted pneumonia, and then he died …not exactly how I'd want to go down in history. My foot taps against the floor, my impatience growing as the time drags on. I need to tell him about my brother, who'd just returned from fighting in France. He served in the 1st Battalion, 5th Marine Regiment. Knowing that Lewis would like to listen to Francesco's adventures too. I'd told him to wait until Lewis and I could leave school together for him to tell us the stories. Finally the bell rings and I jump up and grab my books.
"Lewis!" I call following him out of the room, "Lewis," I say again as I catch up to him in the hall.
"Yes, Liborio, what is it?" he asks looking at me with dark eyes that seemed to command authority.
"Francesco is home. He just returned from France last night!" I announce excitedly.
Lewis's eyes gleam and flash with joy. "That's great, Liborio! Did he say anything about the battles he was in?" he asks.
"No, he hasn't. I told him to wait until I could get you to come and listen," I explain. Lewis nods.
"Alright, I'll see you two after school. Bye!" Lewis said leaving for his next class.
Pacing the parade ground in front of the school's main building I await Lewis and Francesco to arrive. The cadets had retired the flag, and school was over, so they should be here soon. I run my finger along the collar of my uniform, pulling it away from my neck nervously. I look around now and then, trying to see if my brother or friend is coming; I look at my watch, and look up again. Finally, I spot Lewis walking across the parade grounds. When he sees me he jogs over.
"Where's Francesco?" he asks.
"Coming, he'll be here soon," I say quickly.
"This better be good, Liborio, or else. If I don't keep my grades up the school will kick me out," Lewis mutters.
"You think I don't know that? Lewis, if this wasn't going to be good, I'd be studying right now. I don't want VMI to boot be either. I just think this is way better than sitting up late staring at text books," I snap.

Lewis looks around. "There he is!" he exclaims.
Pointing, I see Francesco running towards us,
"Hey little brother and Lewis," Francesco said. We go and sit on a near by bench.
"Where were you this time?" Lewis asks my brother excitedly,
"Belleau wood. The 5th Marines and some of the 6th had to march 10 kilometers after the Germans punched through the French lines. We did it, and 4 days later we got attacked by the Germans., Francesco explained. He launched into an explanation of the battle, detailing the fight, vividly describing the deaths of the men around him. Francesco chokes up as he describes some of his buddies dying. Lewis and I listened with rapt attention to every detail, taking it all in. With Lewis getting more jittery as the time went on, I could tell he was excited.

As we walked back from the parade grounds we were silent, thinking of Francesco's explanation of the battle. With voice impassioned yet firm, Lewis finally spoke up,
"I want to go where the guns are, Liborio, I don't want to sit and study for the whole war! I couldn't fight in Mexico 'cause I was too young, but I am not sitting this one out!"
"What do you plan to do?", I ask him.
"You'll see," Lewis says. We say good night and head home for the night.

The next day, I can't find Lewis at school at all. I went to talk to the principal about Lewis's disappearance.
"Lewis Puller dropped out to enlist in the Marines," the principal tells to me. Leaving his office I smile, and shake my head that's what Lewis meant about wanting to go where the guns are.

A few weeks later I got a letter from Lewis. He says he is deploying to Haiti, having graduated from OCS a fortnight ago. Smiling, I lay the letter down on my desk and returned to studying for my exam. My buddy Lewis Puller is a Marine and an officer at that. His wish is now true- he is going where the guns are.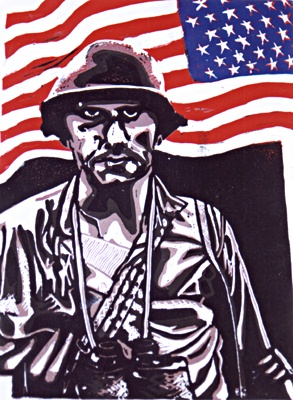 © Troy W., Kannapolis, NC