The TRUE Civil War History
January 25, 2011
Well long ago in the year 1860 there was a Northern man by the name of Robert, and a Southern belle by the name of Scarlet Jean. Now Scarlet Jean and Robert were both kin to Paul Bunyan. But our story is long after Paul Bunyan went to sleep, see Paul never did die. Well Mr. Robert was a man of darker skin, and did not like what Scarlet Jean was doing to people of his race in her part of the country. Now Ms. Scarlet Jean knew Robert did not like what she was doing but she found it fair, the white folk gave the darker skin ones a place to live and food for an exchange of work. Down in the south work was needed. You see even back then the tobacco fields did not plow themselves. As you can see Scarlet Jean and Robert did not see eye to eye practically ever.

The main reason of the fights was that they were so different. Mr. Robert went to school for many years, and Scarlet Jean would be caught dead in a school of any kind. Mr. Robert was a downright city man, and Scarlet Jean was a southern belle that all the southern men dreamed of.
The only thing they had in common was they wanted what they thought best was for their people. Mr. Robert thought it was best to put Mr. Abraham Lincoln to help rule his part country, but even before Mr. Robert put Lincoln in office. Scarlet Jean took her states away from the country and put Jefferson Davis in office for her states.
Mr. Robert was agitated. How dare that southern girl leave the country that had been made many years ago? So Robert went off in a rampage and would have created the biggest and bad-est hurricane that man ever did see if Paul did not rise out of his hole he was sleeping in and lasso that hurricane and turn it around, an extremely easy deed for a man of his size and statue. Paul always was a wonderful man for being there just in time before disaster hits. After being sure the hurricane was gone Paul went to have a good talk with Robert. They sat and talked a long time while sitting on Minnesota. (When they got up it looked just a little squished.)
Robert was very ashamed to wake Paul out of his deep slumber and to have raised such a riot. Once they were done talking, the people were already in war beginning at Fort Sumter. Leading the south was Scarlet Jean along with General Beauregard who was in charge of the South Caroline forces. (Scarlet Jean is not mention in the history book for women did not yet have their rights) Forgetting all about what Paul had said about making peace, Robert himself took on leading the north. (Robert size is not mention in the history books because he was only half of Paul Bunyan therefore he was not the largest so no one care about his size.) Robert was eventually force to surrender. The only war between the country itself had started, brothers were fighting their own brothers, and best friends were fighting one another. The country that once was at peace was in war, the American Civil War.
At this time many things were going on, West Virginia was made in 1861, and even though they approved slavery, Delaware, Kentucky, Maryland, and Missouri did not join the South. This greatly angered Scarlet Jean, and led her to another battle the Battle of Bull Run and with the help of Thomas "Stonewall" Jackson, (Who earned his nickname in this battle for holding his ground) again they won, and Scarlet Jean felt satisfied. Robert was angry and replaced General McDowell.
When General Jackson was killed by one of his own men, Robert laughed while Scarlet Jean cried. But don't go thinking that Robert was incredibly cold hearted by laughing; Scarlet Jean did her fair share in laughing too, it just proved to him that the war was his to win.
Robert had not listened to Paul, and Paul decided it was a lost cause trying to reason with the two of them and stayed in his grave. He did not sleep much the sounds of war kept him up. Scarlet Jean and Robert were so very mad at each other they kept on fighting leading their men. They did not realize all the heart ache they were causing for the wives and children at home, all they cared about now was winning. Scarlet Jean honestly did not know exactly what they were fighting for she knew it had to do with slavery, and politics. She thought the people from the north including Robert were rude and quick to insult somebody. Robert thought it had something to do with his president, and at this point thought the people from the south along with Scarlet Jean had only half their teeth had weird names, and loved guns, and drinking.

Later in July of 1861 the Robert created a blockade around the south's shore line, Scarlet Jean laughed causing an avalanche on Mt. Everest. She made smaller and faster boats that could get through the blockade. The only problem was these smaller ships could not carry as much supplies in, but at least it was something. Again people suffered they were under nourished, and growing deaf from the never ending gun shots and cannons.
The fighting continued for four years, until the April of 1865 the Surrender at Appomattox Courthouse. When Scarlet Jean surrendered to Robert, after Paul had caused a massive earthquake with his tossing and turning (this might not be in your text books because Paul got right back out and closer the crack once the wind started to nip at his ears). Robert was so full of pride and joy he asked Scarlet Jean right then to marry him. Scarlet Jean agreed right away and was soon that blushing bride (they had to wait a week for Paul huge headache to get better though). Scarlet Jean sent her states back and let Robert take care of them while she went off and had a son. He was a fine boy much like Paul in looks. They named him Uncle Sam, because that what they felt like naming him.
Then Scarlet Jean and Robert dug their own beds and went to sleep too. There wasn't much left for them to do with Uncle Sam in charge. Uncle Sam Paul Bunyan's own undying blood, wearing his red, white and blue hat.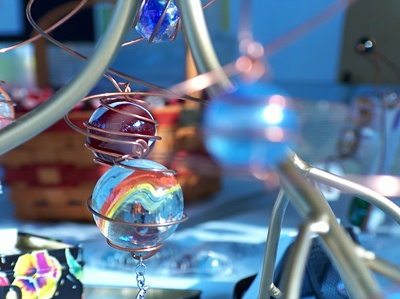 © Sean C., Princeton, IL