Moons Amongst the Stars
March 28, 2021
After my age of prosperity: the depression, the wars— they were all denying me an existence, "You must pay," they whispered, as I had once to them… I was never alone.
28th of September- 1969: London
Part 1
The summer of sixty-nine—when humans land on the moon; the Beatles' fountain of fame requires but the crossing of a road; a time consisting of people bubbling about the first ARPANET message being sent, clueless of what it is. Sunday lunch conversations that shimmer in the glowing reflection of such an enchanted time preside the households of those who are aware of what the epoch has to offer. A constant hum of a radiant kind is eternally present and all with eyes to see and ears to hear are alert. The surrounding air is full of opportunities and 'new money' is now the most frequent term to be heard. London's city centre is blooming, the slight recession across the Atlantic is- as implied by its remote location- "miles away" and new shops can be seen every day around Piccadilly. Neighbours appear and disappear in and out of town, a little sparkle in their eyes, promising that their time away is not to be idle. A stride in Regents park cannot occur without one hearing some lovely laughter and whispers containing promises of hope between many. The London Underground is bursting with rushing people, each almost oblivious to the other, their minds set on goals that they are convinced the summer of sixty-nine can assure them.
Yes, this Summer seemed a wonderful one, one that tickled ambition with feathers in one's ear, a time that promised a promise of a hope so dear that the sigh it brought was hardly containable. As my heeled feet, tiredly carry the weight of despair in such a year, I scan the Thames' bank for a spot that isn't clustered with shrieking people. I finally spot one and with difficulty I bend over in order to sit, disregarding my new grey suit. The skirt is imposing its protest at such abusive treatment of it and the picture of the young lady in it. I do not care. I bend my head and read the letter once more…
Dear Miss. Evans,
This letter is in response to your application of June 25th, 1969.
Whilst Jones&Daves law firm was delighted to receive your application, we regret to inform you that…
Does nobody have any regard for the fact that a twenty-six-year-old woman is unmarried in the pursuit of a long-since wished-for career that may never happen because her name is Deborah and not David or Michael? Across the riverbank, I can faintly see the top of Buckingham's ornamenting features. Men and women frolic on this cool September day. Women, who are being initiated late into some lame Hippy movement (unknowing or ignoring that in such a year we are already largely behind that) can be seen wearing short colourful tops my mother would have deemed undergarments and flowing skin-tight trousers: seemingly oblivious to the piercing wind perpetually present on English territory. (Summer or Winter: the one that would faithfully be there.) I bow my head in defiant acceptance, ambitious women of the late 60s don't live in a world that wants ambitious women. Or rather it welcomes the concept: but shivers at the practical sight of it. Universities are tripping over to be the first to massively admit talented girls, the labour force merrily nodding at the prospect but when the time comes...
I was amongst the few women in my law degree promotion of 1968 graduates at the University of Sussex. Most of our male contacts are steadily climbing in the workforce. The calm vastness of the Thames in front of me infuriates me and as I stare in the English September sky- I feel my insignificance next to it. Tears finally make their way and the year comes crashing to me. In 1969, I have failed.
28th of September- 1969: Paris
Part 2
As my feet draw on Rue Montorgueil I peer into the familiar stones of Saint-Eustache and am reminded of my wedding day. As the beige monument starts to become imprinted in my eye, I feel the lone tear that makes its way down my face, an untimely scar marking my meticulously applied makeup. I raise my chin slightly to face one of the last of Paris' cooler breezes and my adoptive country stares at me with the full strength of the cynical expression that I have become so accustomed to. Those pretty little cigarette wisps of smoke are teasing me with their crude artistic slithers. A certain Monsieur stares at me from near a café by Saint Eustache in a typical way- scrutinizing me through those two revolver eyes. The man holds an eternal smirk painted on his face and all his features are neat and impeccable. He's a short man, in his middle ages, not particularly imposing, nor particularly handsome. Yes, the only really interesting thing about Monsieur is the haughty manner he assumes. Perhaps he is a graduate of L'ecole Normale Superior or he knows of some great ancestor who had been a part of the French aristocracy at the time of "Le Roi Soleil"- in any case, he certainly affects exactly that position.
Ten minutes later, just as I can stand my pain no longer, I turn the key to a small apartment. From out of a half-open door across the corridor the soft music of Serge Gainsbourg and Jane Birkin's new song- "Je T'aime…Mois Non Plus". I am no longer in a state capable of registering the music—in the most dignified manner that I can still exert over myself to impose, I half grab the nearest packet of cigarettes and tremblingly bring my flickering lighter to it. Dunhill- 1963: it is a pitiful reminder of the pitiful man who left it to me. I exhale- finally calm, denying my horrible conscience. I eye my stony face in the eastern window from my spot on the bed. I survived and I do what I must to survive. I slowly feel the room close in as the fog envelops me…
I am waiting for a soldier
As many have before.
I've been sitting in silent prayer,
Since he left me by the door.
I am waiting for a soldier
As many have before.
I've been dreading the strangling knock,
Threatening he is no more.
I am waiting for a soldier
As many have before.
I've been penning shaky letters,
Through my rocking: back and for'.
He jumps from spree to spree.
He serves a concurring country
While sealing unrighteous kisses
To a homeland very far from me.
I sit and write at home
Awaiting my unfaithful husband,
Whom the righteous path has left to roam.
I cry in silent prayer
Remembering the frightening night,
The desecrated sight,
Upon which my devastated heart
Lamented: a sigh of might.
For I am waiting in vain forever,
Knowing my soldier will come back never.
He has long since stopped being a soldier
And his patriotic land has left for another.
No soldier would leave his beloved land.
No soldier would abandon it for another's hand.
Yet here I am
My soldier having left me forever
Suing woman after woman's hand.
…
I am waiting for a soldier
As many have before
I am mourning in the dawning
That my soldier is no more.
I scream. The room opens up around me and sleep instantaneously releases its clutch on me. Sin, tears, love, hate? Yes, in Paris- the land of love, my husband, he's abandoned me forever. In the year of 1969- I have failed.
28th of September- 1969: Unlocalised IDF troops: Golani Brigade Infantry
Part 3
I lie in the ditch, eyes closed, the only sensory part of my body that I allow to have contact with the outside world—if not, the pain, the ugliness would get to me and then surely, surely all hope would slip, approaching nothingness. I remember my visit to the Western Wall—the only one, the one I have fought to revendicate. The one that has made me cross the borders of the Holy Land to battle a country that my ancestors left in freedom so many years ago. Since, what has changed? Much- definitely. But why then are we still fighting the same war? Why did I just watch Benyamin close his eyes for the last time barely two days ago? Why is it that I, a citizen of an arising nation, cannot even cry anymore for a despicable silent acceptance of what has happened? I hope that my children will never have to live in the perpetual dominion of a snake whose slither conquers every waking hour and subdues the sleeping ones. That vile creature shows me horrifying pictures of my beautiful wife and daughter. The one that makes me writhe in muted begging to the Creator of the World that I may one day return to my homeland. In this faraway dream, I roam a land- free of fear, exulted over the preciousness of every conscious moment wherein I feel the world is so wonderful that I cannot even enumerate all the good that is bestowed on me. I feel myself beginning to slip, the monster of sleep will have me yet...
Benyamin and Azriel stare into my silent irises and my weak hand finds divine help to reach out to them. They stare at it, disconnected, and push it gently back. They are not as they were and the glistening life in them is replaced by something else, rather despicable. These are the ghosts of the gone. They were so full in life and so determined at the end, not brave in facing death, not relieved at facing renewed existence; rather, determined that it was but accessory, transitional— life. My poor ghostly figure insults their very memory. Life, after all, is only a narrow band of existence. "Raphael, please…" Azriel tells me, but in my voice. A reflection of my perception of my duty to him. "Tell my mother and father that I died proud, defending the Holy Land," I cannot speak. Of course, it is a partial truth, but I will say it. One truth doesn't prevent another. None of us wanted to die, in those final days- none of us spent time heroically contemplating our role and vital mission. Doubtless, Azriel was no more heroic. Our martyr was survival. Of course, we never told that to the family because there was no use in so much truth. What would it matter? In the end, lies can be the dead's final gift to the living. I search for the hope that I want to, no! must, find. But for now, I am empty. I find nothing. What is hope? 1969- the War of Attrition- I have failed.
I stare on, not sadly, nor in success… I shall always prevail, the darker shall subsist. My whisper—though a meagre shadow in the night, crawls- stabbing those who dare approach it. My message is sprawled upon those iron gates of abundance and success. What is hope if not the bland idea that is the duller pain between lashes? The quietly sad ignorance to deny apprehension and comprehension that misery leads to misery and life fills the between? My survival is not contingent, except upon mankind's survival, but if mankind didn't exist then I, would not need to exist, would not have a role to complete. Ironically, I cannot bestow upon myself what it is my purpose to bestow upon others. I live, not in malicious contentment, not in hope: the faded existence of my foe, but rather with mission, precision and sense. These defeats, they were more triumphant than victories: they were defying, they were impossible. Moons amidst the stars. Seeming to them, beings of flesh and bone, as less abundant yet plentiful all the same, showing so beautifully the scope of such pitiful range of vision. It is I, defying the impossible, for I am failure—in 1969.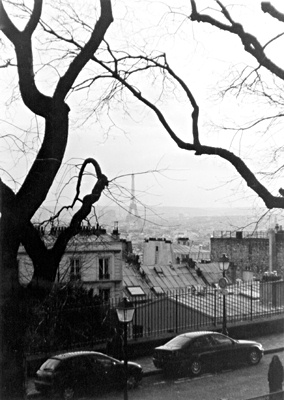 © Lena K., Marblehead, MA