The Crossfire of Life
June 18, 2018
A steady breeze blew through Chenoa's hair. Being an Indian captive since she was only 10 years old, she felt as if she was part of nature it self. Calls of birds floated in the air and the laughs and murmuring of children and women of the tribe.
Dancing and twirling throughout the smokie Indian camp, she ran into Bidziil, the chief's son. Earning respect with the chief and elders wasn't hard, it was being acceptable to Bidziil.
Far off from humble, Bidziil had very high expectations for eligible brides. Getting one to fit his criteria was a little tougher than scaring all the girls off.
"Hello Bidziil. I'll be on my way now, I didn't mean to bother you."
"Just taking a little walk, inspecting all the eligible brides as you are not."
"K--"
"Leave this matter to the true blood's, white girl." Making his statement unnecessarily brutal, he walked off with authority and pride.
Not wanting to linger in such a hostile environment, Chenoa decided to head back to the forest where she felt free to be herself and didn't have to worry about having to talk to such a prideful, arrogant, and stubborn person.
"On the other hand, I may get to see Ahusaka everyday. Perhaps I will even find my family after all I am, by birth, Sarah Annabelle Davis, daughter of a farmer with five brothers."
Queer thoughts filled her mind as she started thinking about her family. Realizing that she may never even be able to find her family, she left the thoughts of happiness.
"Say, what are you doing this far 'white' girl?" The boy in front of her was her long trusted friend Ahusaka who was also an Indian captive.
Unaware of the current activity going on around them, they were surprised and rather frightened to find themselves in the midst of a rather childish quarrel. Very frightening indeed, two men were having a shoot off for a little disagreement on who's cattle should graze in which pasture.
With bullets flying right past their faces, Sarah Davis (Chenoa) and James Goodwin (Ahusaka) had to duck for cover in some nearby brush. Expecting to be hit with a stray bullet, Sarah turned to see James bleeding out from and expanding whole in his right shoulder another killed him just moments later.
Yearning to go back to the days of exploring the forest with Auhsaka, she let go of her dear friend and gave her life.
Zigzagging through the forest again, Chenoa's soul was at peace once more.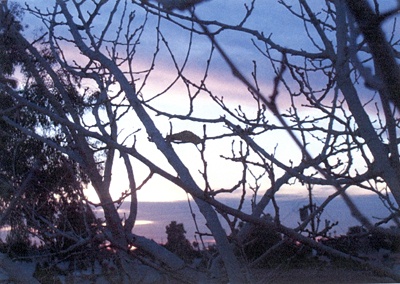 © Delia R., Phoenix, AZ