A Night of Unraveling
June 4, 2017
"You just can't murder me," I feel the need to point out, although backed against the fence, I'm in no position to argue. "There are laws. There are cops. You will get caught."
     "Oh Jason, I don't really have to do any murdering," my assailant smiles, her flash of teeth like the glinting blade she holds to my throat. "I only need to give you one. Little. Cut."
     "No."
     Her knife lowers to my hand. We both know that she could drain the life out of me through a sliver in my thumb.
     My eyes dart over her shoulder to the Snarl, what we call the woods at Camp Misty Lake's edge. My feet turn to stone. Could I fight her off? I'm much bigger and faster, sure, but she has a knife. And there's the whole bleeding out issue. Still, if I stay, I will definitely die.
   Before I can talk myself out of it, I take a deep breath, feint left, duck under her right arm, and bolt. As I yank the gate open and disappear into the forest, having to be so careful not to scrape against a single branch, I curse myself for the millionth time for ever drinking that lemonade.
    
***
     When I met Mia a month ago, we were just beginning our CITdom at Camp Misty Lake. Of course, I had gotten there last, and got the worst bed in the boy CIT's cabin, a rickety top bunk above a snorer. Said snorer showed interest in getting to know his bunkmate (lucky me) better. After that, the rest of the boy CITs did not. Being an outcast among the boys wasn't so bad since I had a job to do. But when I wasn't wrangling children, I was staring at Mia.
     One glance from her made my internal organs switch places then fill with helium, for an utterly different reason than they do now. After three days, I mustered the mettle to talk to her. After five, to flirt. After nine, to kiss.
     I loved Mia's long, dark hair and big, green eyes and the trace of danger her heart-pounding, heart-shattering smile.
     I think she loved the way her smile shattered me.
***
     I snap out of my memories as I lean against a tree, panting. It's kind of hard to focus when it occurs to me that Mia and I might have made out against this exact tree not too long ago. When I can finally breathe, I go silent and still, to see if I can hear anything. After 30 seconds, there's still nothing but silence, but I don't let my guard down. My pursuer and I both know these woods well.
     I need to keep running.
     If I weren't so terrified, this might be fun. The tops of the trees are drenched with the last rays of the sun. It's the last week of August, so the heat is no longer unbearable. The perpetual coat of pine needles on the ground is soft beneath my pounding sneakers. I'm flying, at the top of my game. Yup, just like track team.
     Except I'm not sure how long I have to run for.
     And I don't know where I'm running to.
     And I do know who I'm running from.
     After who-knows-how-long of running, (I'm afraid to turn on my phone to check; I need to conserve battery) I hear it: "Jaaayyy-sooonn!"
     I really, really, really want to scream.
     I just run.
***
     This was a weird summer.
     There was writing on the wall of the Boy CITs' cabin, right above my bunk. It ranged from the enigmatic (swirls and triangles, arranged like some secret code) to the lewd (usually pictures, involving me and and a few of my cabin mates) to the scary (also usually pictures, involving me minus a few body parts, plus pencil-gray blood splotches).
     The thing was, though, that though the writing looked like pencil, it was un-erasable. The writing never came off. My cabin mates were amused, but they swore they never knew who did it. It wasn't in their handwriting, anyway. And I didn't find a single writing utensil when, in a state of paranoia, I went through their bags while they were swimming. I even searched my own bag, but the only thing that wasn't there before was a spool of green thread. Probably from when I helped the kids make friendship bracelets.
     Another weird thing: the nightmares. At around three am every single night, I jolted awake, drowning in my sweat-soaked sheets. I didn't remember what I dreamed about, although once I swear it involved a spool of green thread.
     And Mia. She was the best girlfriend in the entirety of the world, of course. She really cared about me, too. She asked me lots of questions about my life, and made me feel comfortable answering. I told her about my home (a tiny apartment in a big city), my family (I didn't tell a lot of people about my dads, plural), my friends on the track team, and all my dreams and plans and secrets. There weren't many people who listened as well as Mia did.
     She was the best girlfriend in the entirety of the world, of course. Except when she wasn't. For one thing, I wasn't allowed to talk to other girls. Or other boys. And for all I told her about me, I learned almost nothing about her. While she was wonderfully witty, sometimes her jokes were too terrifying to be funny. Sometimes there wasn't a punchline. It almost felt like the punchline would come later, when you'd almost forgotten, when it would hurt too much to make you laugh.
***
     Back in the present, the night settles like a stifling blanket over the woods. Every oxygen molecule I suck in feels like sandpaper. God, I want coffee. No, salt and vinegar Pringles, the ultimate comfort. I generally eat healthy for track, but I can't say no to salt and vinegar Pringles. I sigh.
     As I run, my hand wanders to my pocket and I ponder taking out my phone. I need a flashlight. Or maybe to call my dads. No, it's not like they'll believe I'm fleeing from a murderer. (Murderette? Murderess.
That's it.) I complained about CITing so much this year that they might suspect an elaborate ploy. And even if they do believe me, what can they do from a tiny apartment in a city a few states away?
     A mile later, I almost get scratched by a jagged piece of bark on a tree. I brush against it, and for a moment, I think it'll break the skin, but when, fumbling, I shine my flashlight on it for a second, there's only a skinny white line on my arm. And suddenly, I feel the urge to scream and tear the leaves off the trees and kick at the trunks. She made me a bubble wrap boy. I'll be afraid to move for the rest of my life, unless I find an antidote, which is never going to happen. And the rest of my life, which can't be very long. So many nevers. So many things will never be the same.
***
     Lemonade in the summer is sacred, like ice cream or swimming or camp. Lemonade is innocent, a childhood throwback, and always refreshing and satisfying. Lemonade could never hurt you.
     Right?
     The CITs at Camp Misty Lake get lots of free time. But we never get free snacks-we only eat at mealtimes. No lemonade on tap, either. That might have been a red flag when one day, Mia approached me in the woods, holding a glass of the stuff.
     "Hey," said Mia.
     "Hey," I replied.
     "Here."
     "Thanks." I kissed her on the cheek.
     "It's really good."
     "It looks really good. You want some?"
     "Already had it. It's all yours."
     "You sure?"
     "Just drink the lemonade. What do you think, it's drugged?"
     I took a sip.
***
     About two hours (and no Jason tantrum) later, my pursuer finally catches up to me. I hear her feet padding through the trees, and try to run, but there's nowhere to run to. We've reached the end of the Snarl, and I have the choice of fleeing into the girl's clutches, or a twenty-foot barbed-wire fence. And I know I can't climb the fence.
     "Jaaayyy-sooonn!" she singsongs again, far too loud and far too close. Then I'm pinned against the fence, gently enough not to cut, but it's hardly gentle. After hours of chasing me, she's not even sweating. She takes out her knife. In the dark, it's all I can see.
     "Wait!" I cry out.
     "Oh, you've kept me waiting long enough."
     "Just answer me one question first. Please?"
    "Hmmm," she says. "Okay, let's hear it."
     "Why me?"
***
     Of course, I didn't know what I drank that day. After I downed the whole glass, Mia swerved around my lips and pecked me on the cheek. Then she strode away, towards the light at the entrance of the woods, and something in the way she did it told me that she didn't want to be followed. I was supposed to be setting up a scavenger hunt in the woods in a few minutes, anyway, so it was just as well.
     But as soon as Mia was out of sight, I felt a stabbing pain in my stomach. Then my feet. Then my hands, and head, and chest. It felt like every cell of my body was exploding, and I couldn't even scream, or fall, or breathe.
     Then it was over. I took a shuddering breath and realized that only a second had passed. I looked down at my arms and legs. Nothing was wrong with me. So what was that?
     I realized that I should probably tell the nurse, or something, and I began walking out of the Snarl to do it. But just as I was swinging the gate shut behind me, Mia appeared in front of me.
***
     "What is wrong with you?" I continue. At this point, nothing
I say can make things worse for me. "Why do you want to hurt me? And kill me? What did I ever do to you? What could you possibly gain?
     She looked at me with something shifting and animal in her eyes. "It's nothing personal, Jason."
     "Uh, it feels pretty personal to me."
     "Well, of course it had to be someone. You were cute, and so, so fun to play with. You were so easy."
     I'm silent. She keeps talking.
     "You weren't cute for long, though. It got boring. I needed to step up my game. It needed to get bigger."
     With Mia's face so close to mine, I can see that her irises are wide, beginning to swallow her eyes. They're almost entirely green. She keeps going.
     "Nothing is as delicious as this anymore. Your face, your fear, your blood…"
     "Wait, what?"
     "Oh, you don't know, do you?" She puts her hand on my chest, and I felt her long nails pressing into me. "I can feel it, your heart, beating, beating, beating like it's going to burst. It's a water balloon, you're a water balloon, and you know I'm going to burst you, but you don't know why."
***
     On that fateful day, at the gate to the Snarl, Mia was positively sunny. "Did you like your lemonade?" she asked, grabbing my arm.
     "Yeah, thanks," I said, attempting to brush past her. "Yeah, I just need to get to the nurse."
     "I don't think that'll help all that much."
     "What?"
     "I said, 'I don't think that'll help all that much.' God, do you ever listen?" Mia said things sometimes, things that sat on the razor sharp edge of kidding and rage. I usually knew to tread carefully. But I really needed to get to the nurse.
     "Sorry, I just…have to go, okay?"
     "Jason!" she almost screamed it. "The nurse. Can't. Help. You. No one can."
    "What the…what are you talking about?"
    "It really hurt, didn't it."
    "I…"
    "I keep telling you. You never listen."
    "Telling me?"
     "I hope you liked your lemonade."
     That's when the entirety of the whole world seemed to drain of color, and the Earth to stop its spinning, and its rotations around the sun. That's when the pieces fell into place, and the worst part was, I knew that I had hidden each one in my own pockets all along. I had known that Mia was dangerous, the moment I'd seen her smile. I had known that nasty things happened when she was around. I'd been blind and stupid.
     "Mia," I said, "what did you do to me?"
 
***
     "Who are you?" I shout. I can see that her eyes (Mia's eyes—I've got to start believing it) really are all green. No black, no white. I feel like I'm drowning in them.
     "I'll give you three guesses. Maybe I'll make this quick if you impress me."
     Breathe. Breathe. "Serial killer."
     "Who can enter your dreams?" she sneered. So that was Mia.
     "Vampire." But that didn't feel quite right. It was something darker, weirder, harder to say out loud. It wasn't easy to force the words out:
     "Demon."
***
     My grandfather died when I was thirteen. To slow the process, he took medication. It thinned his blood so it wouldn't clot and he wouldn't have a stroke. The unfortunate side effect was that his blood couldn't coagulate too well. If he got injured, he would bleed more than the average person. He could have a hemorrhage.
     Now imagine an anti-clotting solution a hundred times stronger.
     Imagine that it insured that any blood cell outside of your body wasn't going to be replaced.
     Imagine that it insured any damaged skin or muscle cell wasn't going to get repaired.
     Imagine that it was made of completely different stuff than medicine. Imagine it's stuff that most of us never even knew existed. Imagine if it's meant to cause an eventual death by papercut, without any positive effects.
     Imagine that its effects are not curable by science. Imagine that everyone in existence either cannot or will not tell you what can cure it.
     That's what was in the lemonade that Mia gave me.
***
     A desperate thought occurs to me. "Are you possessing her?"
     Mia laughs. "Yeah, since seven months ago. I am the Mia you've always known. It really doesn't take much to be a girl for an extended period of time if all you need to do is charm a boy. God, it was so easy to get you. I just gave you a pretty smile, and let you make the first move. I pretended to care about the drivel in your head, and I pretended to agree. I took a look at your dreams, and replaced them with nightmares. And hey—you would've followed me anywhere. Oh, and you told me where you lived. And about your precious daddies."
     "You leave them alone," I quavered.
     "Oh, like you could stop me. But they're not your immediate concern."
     "Why exactly do you want me dead?"
     "Oh no. I don't want you dead. I want to kill you."
     "It achieves the same result."
     "Look, boy, for the last time, it's not all about you. I just need to eat."
     "Can't you eat anyone? Why spend all this time tormenting me?"
     "Ha. Kid, I don't consume your body till the end. Oh, it's going to be slow and messy, for maximum nourishment, and I won't leave a trace. Jason, darling, I feed on fear, not flesh."
     "Fear."
     "That's right, Jason. All kinds. I'm not too picky. Nightmares are perfect. So are anxieties about making your girlfriend happy, or whether you're happy enough. So are scary or embarrassing bits of graffiti on your wall that your cabin mates can see, isolating you even more than I did. Threats to your family, and your personal safety help, like how I will let you live a few years before I come back for you, so I can finally end you in agony…see? I'm doing it again. Nom nom nom."
     "Why would you tell me this?"
     She grins a truly demonic grin. "Well, you're scared, aren't you?"
***
      You know the rest. After my girlfriend leaned in and whispered what she'd done, she took me by the shoulders and shoved me into the fence. Then she took out a knife.
***
    
     How do you kill a demon? Because that is what I plan to do, although I've never killed anything bigger than a fly, and it was usually reluctantly. I think back to the old episodes of Supernatural I've watched, but I somehow doubt that Mia would be impressed if I tied her to a chair and chanted fake Latin at her. When I consider her reaction to having a bag of salt dumped on her, I can't help but snicker.
     "What," Mia snaps. "What's so funny?"
     For some reason, that only makes me laugh harder. "You are."
     Her hand cracks across my face. A reflexatory "Ow!" escapes my mouth.
     My fingers go to my cheek, to the mark of her nails under my right eye.
     They come off wet and red.

***
     When I met my girlfriend Mia a month ago, we were just beginning our CITdom at Camp Misty Lake. I had complained to my dads when they'd dropped me off the day before: what if I lose a camper? (I was actually pretty good with the kids). What if I don't make any friends? (I along with my cabin mates okay. I might have gotten along with them better if this was a normal summer).
     When I saw Mia, I was more scared than I'd ever been. But here's the thing: I was brave. There was a reason why she ever became my girlfriend, and it wasn't just her, it was me. I could let other feelings, even just hormones, overcome my fear for enough to get stuff done. Maybe that's why Mia thought I would make a fun little challenge: I got scared, and then I stopped.
       Maybe that's why she didn't like me laughing.
***
     Mia traces my face with her finger and catches a drop of blood. I watch with dull eyes and limp shoulders as she pops it into her mouth. The cut barely hurts, but I feel warmth trickling down my cheek. And for whatever reason, for the first time today, my breath is steady.
     I can't really fight anymore. This is it. Mia won't hurt my family now that I won't be around to see it. She might do some stuff to me before I go, but I'm still going. I hope it doesn't hurt too much, but if it does, there's not much I can do. I hope someone tougher and smarter than me kills Mia in the near future, but I can't do anything to help them, either. All I can do is slump against the tree and close my eyes and wait for death. It seems like the rest of the world is asleep…
     Mia screams, and the sound ricochets through my skull like a bullet fired in a cave. My eyes snap open and I see the cause: Mia is unraveling. Literally.
     A strand of green is tumbling out of each eye, like solid streams of tears. Mia's eyes are now hollow black sockets in her head, and still shrieking, she crashes to the ground. Something is changing about her body, something that I can't quite name. She's losing her...color. Well, she still has black hair and tan skin, but it all seems faded, somehow. The green thread, I realize, is really what makes her her, so vibrant and intoxicating. It's her soul. Mia's soul is now in two heaps of thread on the forest floor, growing taller with the slow and steady determination of saplings. I look back up at Mia—the body—and she meets my eyes.
    Her voice is as dead as the rest of her when she says, "You figured out the trick. You stopped being scared, and fearless works on me. But it won't work on everyone. You've killed one demon, Jason. Congratulations. You've caught all of our attention. You've killed one demon and you will kill more. The Underking is amused enough to lift the curse I put on you...and gift you with another. When you kill your eleventh demon, you will bring about the End of Everything. You're not afraid now, but you will be. See you in hell."
     The shadow of Mia sways and crumples to the ground. Or, she would have if I don't, by some instinct, leap to my feet and ease her down. This Underking character must work quickly, because I've recovered enough strength that my arms can support Mia without much trouble. She's light and limp and cold. When I turn her over, I see that her eyes are closed and the green thread has stopped coming. It's just a tangled mass on the hard earth.
     And suddenly I'm kneeling over her and sobbing so hard I feel hollow. Because this dead demon was also a dead girl, and I thought I knew her but I never did, and I almost died but now I'm alive.
     I curl up on the ground and cry myself to sleep for the last few hours of the night. In the morning, two counselors and a cop find their missing CIT and a teenage girl in a CIT T-shirt whom none of the staff can seem to remember. One will sleep through the next day, the other will sleep through eternity. In all the commotion, no one notices a long strand of green thread along the roots of a tree, still shaded from the light of the rising sun.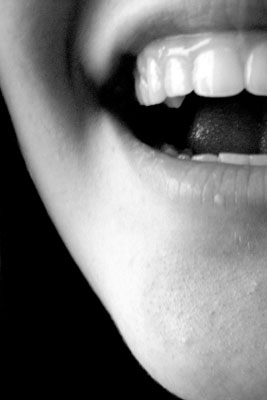 © Katya K., Westfield, IN