Prom disaster
September 2, 2016

      "Hey what do you think about this outfit?" I asked Kylie, my best friend. "Well, it's nice but it's not… you." "How about this one?" I asked holding up a navy blue satin dress with gems going down the side. "Perfect!" she hugged me. "Prom will be the best! Better than junior year!" She squeaked. Once I had bought the dress we headed to Macys to find Kylie's dress. 5 minutes later she came out of the dressing room with a red dress that had a small black bow tied around her waist. "That is the one!" On the way to my house I asked, "Who is your date?" "Kendall" She answered. "What about you?"
"Chris" I answered. "Chloe!!! I thought you hated him!" she yelled. "People change." I smirked.
     Today is prom. Today is the day that marks the start of my new life, kind of. Both Kylie and I did a double date. We took Kendall and Chris to Brio in a limo. Both Kylie and I have our corsages on our wrist and our dresses on with our hair and makeup done just about 4 hours ago. Kylie's red hair was curled into an up-do with a crystal head piece on top. My blonde hair was in a tight bun with curls falling off the top. Chris was in a black tuxedo and a navy blue tie to match my dress. Kendall was wearing a red tie with his tuxedo to match Kylie's dress.
After we finished our dinner we hopped back into the limo and headed to prom. In the limo we had music blaring and lights flashing. I swear, I saw the driver wink at me! Both Kendall and Chris were yelling like always and Kylie and I were just talking about what we think our friends dresses would look like. At prom, I examined the decorations. There were paper clouds hanging from the ceiling and the tables had white tablecloths on topped with a fruit plate and a punch bowl. Looking around, I saw Olivia and Ava dancing together having the time of their lives. "Okay! Time for the crowning of Prom queen and king!" Principal Lewie yelled into the microphone at the top of the stage. "Prom queen is, Chloe!" I walked up to receive my crown although Natasha was expecting to win. So she ran up to the stage with a cake and smashed it into my face followed by a large gasp from the crowd. Chris ran up to rescue me but I only pushed him out of the way and ran to the bathroom in tears with Kylie in tow. This was my big night and it went up to down in a matter of time.  Ok… this is not what I thought Prom would be like.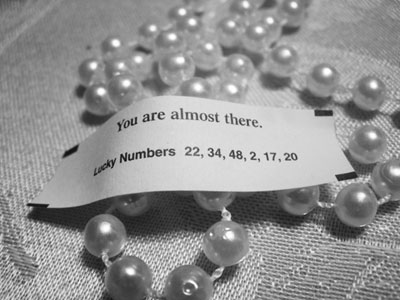 © Elizabeth E., Elmhurst , NY