The Last Sight on the Battlefield
August 10, 2014
The bullets pierce my body repeatedly and I realize there is no more I can take. My grip on my gun loosens and it drops unnoticed to the ground. I stumble backwards until my spine hits a tree and finds support. Involuntarily, I slide to the ground, my wounded leg buckling under me.

I am no stranger to pain. I am a man of valor. But stark reality reminds me who I am right now.


I am a dying soldier.

The battle rages on, ravaging the peace of the land like a giant typhoon. Till seconds ago, I was a player of this bloody game. Now it is my time to rest.

Peace lingers as pain fades away. The war is on my every side, yet it seems a distant happening in some undocumented time. My only role is that of the audience, watching events unfold with mild, if any, concern.

The first drops of rain fall. I know because I hear their light taps on the leaves above my head. The force of the rain increases, and droplets of water mix into the streams of crimson liquid across my form. They wash away the exhaustion and sorrow of age, not just blood.

The scene in front of me transforms in my mind's eye. If it is to be my last vision, it should be a vision of serenity.

The gunshots and shouting are faraway sounds. Instead I hear the lark who once perched upon this very tree. Will she ever return? I don't smell smoke or blood. I smell the rows of wildflowers that bloomed free on this land- before marching armies trampled them into nonexistence. My hands no longer shake on the trigger of a gun. Instead, my left hand touches a undamaged patch of soft green grass. My vision blurs, but my final sight ignores the bodies and bullets. I see past them to a vast expanse of gentle rolling hills... reminding me of childhood, a countryside home. I see the peace of the past.


The tranquility closes in as I am blinded, but as I leave, I take with me beautiful memories. I take the sound, sight, and feel of the calm serenity of the battlefield...


Not as it is, but as it was... and as I pray it shall be.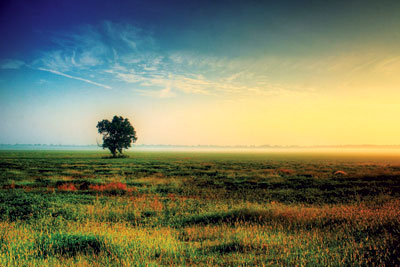 © Taylor M., Pelham, AL