What Could Have Been a Novel: An Allegory
January 20, 2014
I got a little dirt in my eye the other day. One of those minuscule specks of dust that seem to cause unbelievably intolerable levels of irritation. So, I rubbed my eye till it squeaked. It was my right eye, I believe. My 'good eye'.
In hindsight, I have no idea why I took off my Favourite Pair of Shades. The rose-tinted ones that made the world seem just that much more lovely, adding a soft glow to the otherwise murky, jutting landscapes of People and their Agendas. It protected me, maybe even shielded me, from the glares that were People's Real Intentions to the point where, sometimes, I wouldn't even see them at all.
I SWEAR I put them down for just a minute. For just enough time to get the Irritable Speck out. Which I did, eventually... but when I reached out- feeling my way in the deliberate blindness I had created by shutting my eyes, afraid of the Glares- I couldn't feel them anywhere. I couldn't risk opening my eyes, for fear of more Irritable Specks and blinding Glares. So, I closed my eyes for as long as I could, escaping into the psychedelic whirls and patterns that were my thoughts whizzing around in the confines of my mind. Now that I had my mind all to myself, I had time to ruminate. I had time to visit that space in my head where all my thoughts resided; a place my baby pink naivety would never let me traverse for fear of my gradual understanding of People and The Way They Work.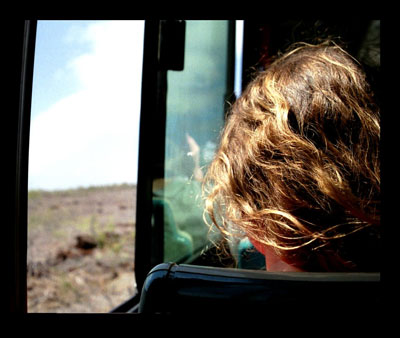 © Kate S., Hopkinton, MA