An Empty Light
August 17, 2012
She blew out a sigh, watching a cloud emerge from her lips. Her eyes squeezed shut as another icy breeze ran over her face and tousled the edges of the scarf she had wrapped around her neck. Slowly, she made her way down the silent path, a soft latyer of snow coating the bottoms of her shoes as she trudged as quickly as she could.

The day had dimmed as the sun set and darkness began to cover the expanses of the sky above the park. Snow cascaded down from the heavens and coated her dark hair like stars do the night sky, as she continued to walk. With each step, she rethought her decision, hesitated, wavered, but stood strong in the end, knowing now was too late to rethink anything.

She walked like this for some time, her pace and breathing in sync as the snow began to fall more heavily and the wind picked up, sending the delicate flakes flurrying about in a crazed dance. Finally, her feet came to a halt; there, on the bench before her, he sat.

Time slowed as she stood there, holding her breath as she stared at him. Her eyes ran over every detail, yet her mind was blank, empty except for the overwhelming awareness that he was there, a mere arms length away.

Slowly, his lowered head was raised, and his eyes reached hers. Small puffs formed around his parted lips and he spoke. His voice, the same as always, asking her what she'd imagined in her head for days.

"What is your answer?"

Without releasing the breath she was holding, she said,

"Yes."

As she spoke, she felt the pressure increase in her chest, felt herself suffocate as she marked herself for death with that one word.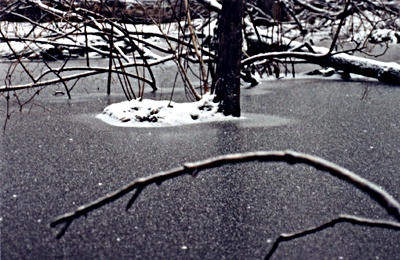 © Anton J., Philadelphia, PA