Track Meet
May 21, 2012
I wait patiently in my lane ready to start running my two mile in the track meet; before the gun is even shot I already have butterflies in my stomach, fluttering nervously which makes me even more nervous, I try to push this nervousness away but it keeps coming back like a deadly sickness, it almost paralyzes my body I feel as though I am turning into stone not able to move, I try to inhale more oxygen but nothing works, this nervousness makes me lose my concentration, I get frustrated but think it foolish and calm down.

The referee blows the whistle for us to jog lightly to the starting line my heart almost stopped, I tell myself to get a grip and calm down the race will be over sooner or later but running eight laps around the track seems like it might take a while longer than I thought, I jog up to the starting line my legs were anticipating the start I look at my competitors one is from my own team another is from Athena they all wish us good luck I watch my team cheer us on I feel very grateful and prideful that I have a supporting team.

The referee shoots the gun and we are off at first I can't concentrate but then I think about my time from my last meet which was seventeen minutes and thirty-two seconds I was focusing on that time for a while trying to figure out ways in which I would be able to beat it; at the fifth lap I gain speed my teammates cheer me but I only hear my heart beating, my quick short breaths, the cool breeze against my body, and my feet pounding on the hard, rubber track, I shift my concentration to my footsteps then my speed then my breathing then my speed and back and forth I can't concentrate. Only three more laps to go my pace quickens, two laps, one lap, at the last curve of the last lap I start to sprint, I sprint with all my might; cheers from every corner are like the roar of a rollercoaster, twenty feet, ten feet, five feet, zero feet I run past the finish line exhausted and happy; I came in third place! And I beat my time, fourteen minutes and thirty-one seconds. What a track meet! I have another track meet next weekend and already I start getting that same feeling of nervousness.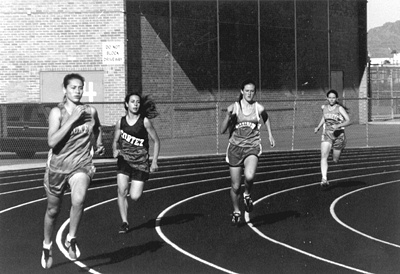 © Lauren J., Phoenix, AZ