I Lost a Star
October 4, 2011
Today, I lost a star. I don't quite know how. It seems I got distracted by something shiny, momentarily beautiful, and then turned back to find it had slipped through the cracks between my fingers. I was sure it would turn up somewhere; wedged down the side of the sofa, nestled under a pile of discarded laundry. Misplaced, surely, like the inevitable discovery of car keys in the same place which had been searched three times before; looking but not really seeing. I comforted myself with these little weaknesses of human perception, all the while blissfully ignorant of the vastness of my own blind spot.

Days past and word about my lost star spread like Californian wildfires. People gathered and accumulated, well-spoken ladies with floral trolley bags and deep sad eyes, young children in their Sunday best, filled with curiosity and a thousand questions. They came armed with handkerchiefs and condolences, and I looked on, brow furrowed in disbelief. My star was not gone, simply because it was absent to the human eye. But nevertheless the people congregated, they spilt incense and gathered memories and in their orderly rows they sang and wept in the appropriate way. Later, ground was broken and they tried to lay my star to rest. I asked why they would suppose him to stay in one single spot forever more when the world was such a beautiful, incredulous thing?

But as the day retreated, so did the people. They diffused back to their little corners of the world, taking with them a small anecdote of the 'poor fallen star' to share with neighbours over hedges and passing milk men on their rounds.

That night, when the people had drawn their curtains closed and shut their eyelids even tighter, I climbed to the highest peak my legs could reach, frustrated because the day was gone and as the people had predicted, so was my star. The pretty aesthetics of the sunset had faded, and all of a sudden, the world was black. I bit my fingernails and plucked strands of grass, overcome by some sudden infestation, doubt I think, nibbling away at my certainty. Perhaps it was possible that sometimes car keys were irrevocably lost. Maybe wishing and wanting are two very different creatures from knowing and believing. A single salt tear dropped to my cheek and with it, a tiny needlepoint of light ripped a defiant hole in the darkness.

Nothing in this world is ever gone forever. It emerges when you need it most; a bus in a rain storm, a flower bud in the midst of winter, car keys just in time for the school run. We change and evolve and outgrow this life spent with our feet on the ground, and it's left to those that remain to see the world through new eyes.

Stars that walked paths with us along the surface of this earth, become the brightest light in the darkest sky. Joy is not discovered in the knowledge that they were lost and then found, but rather in knowing they were never really lost at all.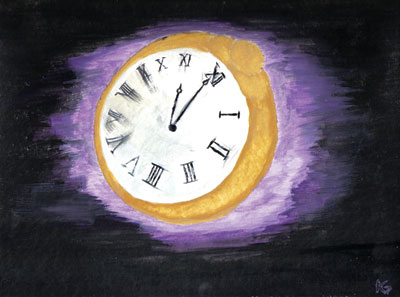 © Kyle G., Clarksville, TN