Taken By IT
May 21, 2011
I feel naked even though my body is not exposed. My lips are dry, and they feel rough and hard when I close them. I shut my eyes and try to imagine something, something that would take me away from this living nightmare, but I still continue to feel those penetrating green eyes watching me like a hawk. He doesn't want to let me go. He says I am his doll, a personal belonging that he owns.
But I felt as though I am a rag, could be useful but could be thrown away. I like the useful part of the rag, I like the fact that I could be used to help, but I don't like to be a personal belonging especially to IT. There is no escape from IT's eyes, I feel as though I am caged in like a taming lion in a circus. The lion could wonder around the perimeter around the cage, but cannot escape from the hard cold metal bars.
Later I lay awake on a cold tiled floor, and IT locked me in because he felt that I would runaway, and he's afraid that he'll be lonely again. Even though the floor is cold, my body is dripping with sweat; it started from my face all the way down to my toes. I feel paralyzed, he attacked me with so much vigor that when I move I cringe in pain. The tenderness aches my throat because of the loud shrills I had made, and my back hurts as well as I lay sprawled across the tiled floor. Somehow, my head aches too, and I feel dizzy like if I woke up with a hangover. There has to be something wrong with me, not on the outside but in the inside.
Why did this even happen to me? How did this happen? The one memory of my last freedom was when I was walking to home from school. The bus driver dropped me off at my stop, and there was no one else to walk with. I lived far away from civilization, at least I thought so. There was no houses surrounding my block but trees, I took careful steps on the main road. The sun was beaming hot like an Arizona summer sun. I could remember my throat burning and couldn't wait to get home to drink something to quench my thirst. I got anxious and started power walking until a blue van appeared out of nowhere, like it was waiting for me, I stopped.
"Hey there, can you help me?" IT asked, he was wearing a football jersey and a baseball cap; he didn't stand out except for his eyes, his bright green eyes. I remember it sent shivers down my spine. I knew my instincts told me to run but I was so hot my legs just stood there like a statue.
"Um, sure," I asked slowly and carefully.
"Well I'm looking for a supply store, and I'm new in town and have no idea where I'm at," he said smiling revealing his big white and perfect teeth.
I looked ahead at the road and showing him where to turn, and where to go. As I was talking, I could feel someone taking me and shoving me in the blue van. IT was on top of me, I screamed for help hoping that there was someone taking a jog or walking their dog to dial 911. But there was no one. IT told me to shut up, and he punched me on the face, I tried to resist but he was so strong. He then gave me a drug, he shoved it down my throat, I bit his finger and he called me something I couldn't recall. Then I remembered my eyes getting dizzy and heavy, my body shutting down on me.
Hours later, I found myself tied and chained together. IT was driving, but not in the same car but a small white truck. He put on some Rolling Stones singing to the lyrics. I made a noise, and IT told me to shut up and not make a sound. And I obeyed his command, because I knew that if I didn't he was going to hurt me.
We later stopped in front of a small cabin home; IT dragged me out of the truck and into the house. He unchained me, and locked all the doors and windows, and shutting all the blinds. He was careful at his job; I could sense that he has kidnapped innocent and vulnerable teenage girls before. But how could I not see it before? I blame myself for what happened, if only I didn't seem so defenseless. If I only didn't stop and tell him useless directions, I wouldn't have to be in this situation.
Now a month has passed by, and I am still spellbound and ensnared to IT. He likes me though, that is what he says. IT talks about our dreams together, and how we will soon start a family. I want to yell at him saying that I'm only seventeen, and that I am still a child. But I don't say anything, because if I do without his command, I would get beaten by his sturdy and rough manly hands.
He watches me when I go to sleep, and watches me when I take a shower. I could feel his eyes watching every move I make, and I hate it. I hate him so much that I would rather die than have to be with IT.
The only thing I could now do is do what IT says. IT now has control over me, and will kill me if I don't cooperate. Now the only thing that I have left in my life is the memories of my family, and how much I miss them. I know they are looking for me, and will never stop looking for me. I am their little sweetie who liked piggyback rides, and camping with my grandparents. I am their child who tripped on top of one of the seven dwarves in a school play performance. I am their child who got the flu and threw up all night, recalling my mother's soft comfort as she would hug me and kiss my cheeks, reassuring me that I would get better. I am the eldest of two siblings, who confided in me with whatever ever problems they faced. I am a friend who listened and attended sleepovers. I am a student who paid close attention to the teacher, and learned.
I am Lucia Grayson, born to two wonderful parents and a sister of one brother and one sister. I live on 302 Miracle Lane, in a house that I grew up in. IT does not own me, I have faith that IT will die in hell and I will be a freed person who will carry a story on her back. I will wonder the streets knowing that I have survived obstacles, and know I will continue facing more obstacles because of my past.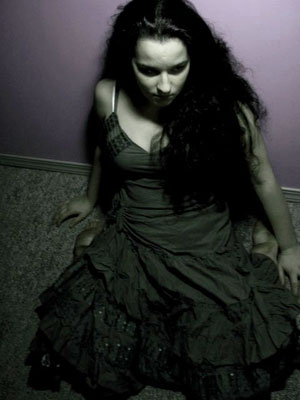 © Brianna D., Everson, WA