HOLLOW
May 15, 2010
One door stands as a barrier between two people. On one side of the door is covered in white and so in the rest of the atmosphere that the boy is surrounded by, at the other side of the door is a black and a tarnished room: images that are burned where a young girl sits beside the door (in a tiny corner) arms wrapped around herself. A tiny crack of light escapes the curtain and exposes the albino skin; with pale blue eyes that stood radiant yet frozen. The boy knocks on the door and calls out her name….

B: Zahra! Are you there?

Z: it depends on the part you're looking for! Physical or mental?

B: we need to talk!

Z: a cheap way of communication so that one may express their opinion to another.

B: that wasn't funny!

Z: (Zahra replies sarcastically) I'm not trying to be funny, just a natural talent! Something you'd be an expert in!

B: there was a time in this life where you were (Zahra cuts him off mid sentence).

Z: I think the word your looking for (Zahra plays with the tiny glass and within her grasp crushes it) sane!

B: No! I meant (the boy turns his back to lean on the door and utters) Different!

Z: (A slight grin grows along Zahra's face). Right and in what sense, again?

B: when you were able to….

Z: (Zahra lets go of the shattered glass in hand and heads for the door; places her finger on her lips) Shh!

B: Zahra …. I

Z: (Zahra whispers something under her breathe, as she finger paints on the door in her blood, a single word) you sound a bit worried.

B: more about you!

Z: why would that be?

B: you know exactly why I worry.

Z: oh! Is that so, well, I beg to differ!

B: Zahra look (places his hands on his lips very quickly; frightened by his words)

Z: my! What a choice of words!

B: oh! God I'm s-sorry, I completely forgot about….

Z: the fact that my sight is useless, oh I could imagine, why a person like yourself would forget; after all that's what people do with me, forget!

B: (the boy begins to plead) it was a mistake! (Zahra cuts the boy in a rash slur; fast, heavy and loud).

Z: MISTAKE…. Now that is one hell one of a joke! (Positions her fingernails onto the door; as she peels of the tarnished black and creates a deafening noise).

B: AH! My ears!

SILENCE!

B: Z…Zahra, could you…. (As he held his hands on his ears).

CONTINUOS SILENCE!

B: (the boy yells in anger and frustration while banging on the door) stop that noise!

Z: finally, the beast has been unleashed!

B: (The boy trembled to the ground and lay against the door, looking upward). Where is your soul?

Z: shattered just like the darkness that surrounds me of this world.


B: I said….

Z: I know what you said, and that's all I have been doing through this whole little chat, listening! Since most of my other senses remain to be damaged.

B: It was to help.

Z: that fowl word just causes me to cringe and I also wanted you to listen, but I guess that tiny bit of instruction is too large mass for the object that is occupying the inside of your head.

B: (mutters utter his breathe) go ahead, then.

Z: I have to say I didn't think you'd last so long usually, after a while many leave me so that I may rot alone in solitude.

B: so you recognized that I'm different too, aren't I not?

Z: if you could only fathom the logistics of that word, because you're not even at the edges of what it means to be different.

B: what is that supposed to mean?

Z: (screams and kicks the door with rage) exactly what I had said, if you had even bothered to read between the lines, to use the fraction of intelligence to dissect this being I have become. (Becomes silent again).

B: Zahra …. We used to share a burning flame that could last forever and some how along the way it got extinguished, as if we had never existed!

Z: Wow!( she turns silent for a little and speaks) how could you remember something so utterly horrid.

B: WHAT?

Z: you heard what I said, that was when I had not realized what reality had truly meant.

B: still you can't just….

Z: actually, I can more than you could ever know, it mind blowing really!

B: Zahra, that's it! (The boy bangs the door rapidly) I've had enough of all this.

Z: lock those serpent lips of yours and hear my words.

B: Zahra!

Z: listen!

Silence!

Z: the universe stands to be the same color as what I see day after day; pure darkness, a shadow that is attached to every human being that walks the earth. The slightest anguish only feasts onto the edges of my ecstasy; on the rise along with the rigorous adrenaline mass.

B: is that it?

Z: I'm just getting started! (On the floor starts a puzzle in a form of an abstract image of some sort). Color is like an international language where shades of black are my doppelganger. It's funny though!

B: what's funny!

Z: somewhere, in this tiny place called reality I did want to find me.

B: you can still if you'd just... (A ticking sound had begun).

Z: (Zahra began to countdown every click) five…….. Four…….

B: (suddenly the boy realized the door was locked) z...Zahra, open the door!

Z: three… two….

B: wait! (Bangs on the door continuously)

Z: one….(the boy gets blown by the door and falls down the stairs while smoke breaks through the barrier; he rises quickly and rushes into the room, total sabotage).

B: z...zah...Zahra!

in the middle of the room lies a body burning on the bare floor and gasoline in the corner; above hangs an abstract puzzle half the face of Zahra and the other half is the face of another, at the back is a name but with the rise of the burning corpse it's fire burns it all to dust. And as he turned to leave a poem in blood stood…….


THE NIGHT FALLS OVER ME
AS I WELCOME IN THE DARKNESS
BLACK SHADOWS BECOME THE BRIGHTEST LIGHT
IN THE TINY SPACE OF ATMOSPHERE
CAPTIVATED BU THE IMMENSE GLOOM
EXPANDING THE ENDS OF MY IMAGINATION TO THE EDGE
BREATHLESS AT THE ASTONISHING SILHOUETTE OF GRIM
WHAT SEEMS UTTERLY UNBEARABLE?
SATISFIES MY EVERY URGE
TWISTED IN THE MOST GHASTLY OF WAYS
CREATES MY SANCTUARY OF INNER BEING
CRADLED BY THE ABYSS TO THE FARTHEST OUTER LIMITS
ONLY TO THE DARK CORNER OF MY ROOM
WHERE WHAT WAS A DREAM
WAS ALREADY A REALITY!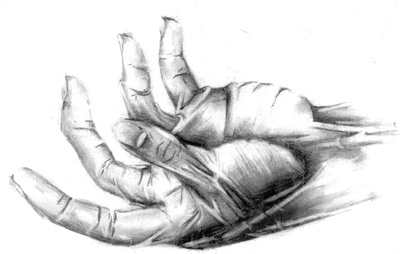 © Yisrawayl G., Philadelphia, PA