Kage and the Monster named Cooper
January 12, 2010
The giant black monster stalked towards me. Drool oozed out of it's mouth dripping to the floor. It's brown eyes looking only at me and nothing else. Like
I was it's pray. I heard a rumbling sound come from deep inside it's chest. It's yellow teeth flashed at me like an evil grin. It started to get closer and closer. I started to back away from the strange creature. I heard the words in my mind yelling "HELP ME!! PICK ME UP!!" I stretched my hands into the air up to the beautiful angel above me. I made a wining sound. The beautiful angel looked down at me and smiled. Her eyes were full of love and hope. Her
gold hair flowed almost to her waist. She just looked at me with goo goo eyes. I said in my mind "What are you waiting for? PICK ME UP! I'm gonna be eaten!" I pulled my eyebrows down and looked away. I put my back against the wall and muttered jibberish. I wanted to yell but what good would that do? Who could understand me anyway? I could only make adorable sounds. My light brown hair was spiked up and it matched the dogs fur standing up on its back. It was so ready to attack me. I could tell by the way it walked closer to me. I could tell the way it's growling sounded. I could just tell. My hand yanked on the pair of pants next to me. I kept yanking. I heard a soft voice say "What bubba?" I pointed to the monster and said in a high pitched voice "Ugh. Cooper!" I didn't take my eyes off of the monster they called Cooper. He smiled his deveous smile and crouched. He was gonna jump on me. I yanked on the denim harder. Right when the monster lunged at me, a pair of pale hands appeared and grabbed me. I freaked and hid my face into a green shirt. I didn't look up to see if I was dead or not. All I heard was the soft motherly voice saying "Bubba? Kage? Honey? It's okay. Kage will you please look at me?" I looked up and saw the angel's face that was my mother. I smiled and cuddled with the angel. I closed my eyes and fell into a deep sleep.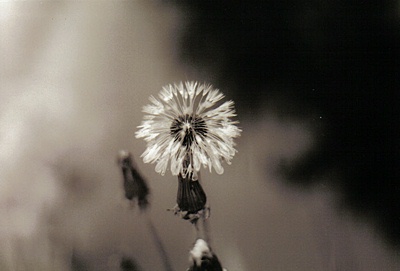 © Sarah S., Poland Spring, ME