Recruiting Fake News for Yesterday News
December 3, 2018
Yesterday News is a fake news "company" that was created by a group of anonymous individuals. Sadly, it has lost all momentum. Now I'm going to try to bring it back. It started off very immature and absurd, but I think that it should make a turn for maturity and sophisticated humour, with a tad bit of the classic "brain-melting madness".
Expectations
Each article should be about 75-130 words long. Anything under or over will be burned, along with whoever wrote it. Well, not quite, but I will frown and either add words or lower the font size. The articles must be school appropriate. That means no killing, burning, swearing at, or injecting with drugs will be performed on the editors. We want them to survive. Violence in the articles themselves is allowed, and referencing drugs and alcohol is allowed but frowned upon. Swears will be censored, and bodily fluids will be wiped off. Otherwise, the rules are very lax.
Prizes
In the very likely occasion that your article is accepted, you will be granted with a virtual high five and bragging rights, because prizes are difficult. If you have any suggestions, please tell me. You will also be published in Yesterday News, which is distributed by both the original creator and me. In other words, paper copies will be circulated in Canada and the UAE.
If you love the idea
Yesterday News will always be looking for new members. If you want to become a true member of Yesterday News, comment on this story, and I will invite you to our Discord chat. If you want to be a distributor, also comment, and I will send you printable copies of every Yesterday News created by my group. If you want to start your own group for Yesterday News (make/edit your own editions), tell me how it goes!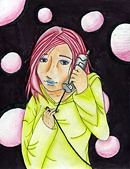 © Emily M., Milford, CT