Miricles
October 30, 2018
You may have wondered who gives us strength or bravery. Who supports us in the endeavor called life. Some would say Psyche, goddess of the human soul. Others would say Heracles, god of strength. The truth lies within a minor god. Here is how he became a god.
Icy fingers gripped my arm in the darkness. My heart pounded in my chest as if it was a drum. My blood ran cold. For a second I thought I had imagined it. Then it spoke in its horrid voice and diminished all doubt from my mind. My heart stopped. I tried to pull away, but it held me tight. Then, and only then, I knew for sure I was going to die. I was going to die in pain and alone with this horrid creature. I was full of regrets. I was young. I couldn't die now. After what felt like an eternity I worked up the courage to speak.
"Wh-who a-a-are y-yo-you?" ,I asked.
It said, "I'm the night sky. I'm the moon that guides you. I'm the only one. That is who I am. The better question is who are you?"
By now I had a few guesses about who this mystery creature was. Artemis? Nyx? Selene? Maybe even Oranus? Despite these guesses I said, "I-I-I'm a b-b-br-bra-brave a-ad-ad-advent-adventurer."
That's when the creature laughed and boomed, "YOU!!? YOU CAN'T BE SERIOUS!!!!! I'VE WATCHED YOU!!!! YOU ARE POSSIBLY THE MOST COWARDLY CREATURE EVER!!!!!"
"HOW DARE YOU, "I boomed back, growing bolder, "HOW DARE YOU, OF ALL CREATURES, CALL ME COWARDLY!!!!! WHEN YOU ARE SHROUDED IN DARKNESS AND MIST!!!!! WHEN YOU ARE SAFELY HIDDEN IN THIS FOG THAT YOU NO DOUBT CREATED!!!!!! SO TELL ME WHAT MAKES YOU SO SPECIAL!!!!!"
"You want to see me the way I am. Then be ready to get your wish." Then it diminished the mist and I saw what that thing was talking about. I saw the long auburn hair. I saw the shining silver eyes full of pride. I saw a silver long bow and a silver quiver full of silver arrows. Almost everything about this goddess was silver. Including her own silver aura.
"Artemis," I breathed. Then, I bowed and said louder, "Please forgive me."
"It's okay. I rather admire your courage to stand up to what you thought was your worst nightmare," Artemis' tone was now as soft a silk.
"How about a final test?"
"What do you mean by that?" she asked gently.
"What about a test of skill and speed?"
"You mean we do three different contests and whoever wins two wins a bet we are about to make?"
"Yep," I reply simply.
"What do you have in mind?"
"A test of sword, bow, and speed. I win, you make me a god. You win, I'm subject to your will until death."
"Deal."
"Swear on the River Styx."
"Okay. I swear on the River Styx."
"It is done. Let's begin." So it began. Artemis gave the young boy a bow and quiver. They each shot three arrows. Artemis got a 10, 10, and 10. The boy got 10, 10, 9. Artemis won that round. They tested each other against sword. One may think Artemis won because she's a goddess. Remember she doesn't use a sword. The boy subdued her easily. Then it came to speed. Hermes decided to be the judge. Again one might think Artemis won again. She could simply turn into a cheetah and run. Surprisingly, it was a tie. They decided to have one last test.
"What about javelin throws?" Artemis proposed.
"I have better idea. You become human and we find Nyx. Whoever can subdue her first, or at all, wins. After the contest you become immortal and whatever happens, happens.
"Whatever." They set off to find Nyx. Artemis decided to wait to become mortal until they found Nyx. Just in case. They wandered through Tartarus and found Nyx. Artemis then became mortal and the challenge was on. It was a ferocious battle. Artemis cracked three ribs, broke her ankle, and sprained her left hand. Three days later Artemis was overcome. The boy stepped forward and broke nothing. He beat Nyx within four hours. Artemis wondered who the boy was. She became immortal again and made him immortal to.
That is how Erythmelius became a god. Not only a god, but the god of bravery.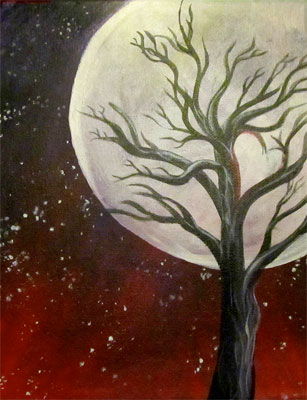 © Rebecca F., Madison, SD