Chaos: The Last of The Shadows Chapter one (novel work in progress)
July 21, 2013
The Last Day
I remember that torturous day, the day all that lived in the Realm of Shadows died, except for me... My name is Chaos. I was born in the Realm of Shadows, and for all I know, I'm half human and half shadow.
The Last Day, as I call it,was the last day of the shadows. This is not the happiest of stories, seeing as the prince, me, was the only one left alive. That day, by far, was the worst day of my life.
It all started as a normal day. I woke up in the morning, I hung around the castle and ate breakfast... Then it happened, The Realm of Light managed to pass into our realm and attacked. Our armies were off guard; no one knew this would happen. One by one, they killed innocent citizens.

The castle was next. By now, we heard of the attack and I was sent to go hide. I did as I was told, but several hours later I snuck out to see of my father was okay. That mistake caused me to see the most horrible thing I have ever seen in my life.

I snuck through the vents into the throne room, I saw a single assassin kill both my mother and father in the most painful of ways. They were bloodied and beaten, fingers and toes were cut off, and they had severe cut wounds all over their bodies as they bled out, right in front of my eyes. The horror of it struck me and killed me inside.

I then snuck back into my hiding spot, burst out and went out to the throne room, carrying a small dagger in my left hand. It was stupid of me to assume that I could beat him, but I was but a mere boy, and I was very angry.

Luckily, by the time I reached the throne room, the assassin was gone. I growled in frustration and threw the sharp dagger into the wall and walked past my parents, to the throne and fell to my knees, weeping for my deceased parents.

#

When I finally raised my head, I noticed something, I was astonished to see my father's sword, for which I was named after, laying right behind the throne. I slowly rose to my feet and obtained it.

After strapping on the katana Chaos to my back -- where I could easily reach it with my left hand -- I dried my tears and walked out of the throne room. I then went to my bedroom and slipped on some new, black clothing. I now wore a black jacket with a hood, a grey tee shirt that complimented my grey eyes, some dark jeans and a pair of grey and black shoes. I must avenge my parent's death, I thought to myself

#

After getting any supplies I might need for a journey, including a small compass from my bedroom, I ran out of the castle, through the courtyard and out the gate. As I ran through the city, I noticed that all the markets and other buildings were demolished, everything destroyed. I stifled my tears as I ran through, to a large arc near the gate of the medieval styled city.

I withdrew my father's sword and slashed the air, pouring my essence through the blade and successfully ripping the fabric between realms, creating a temporary portal to the World of the Humans. I sighed deeply and looked back at the realm I would be leaving behind. I was scared; I was leaving my one and only home.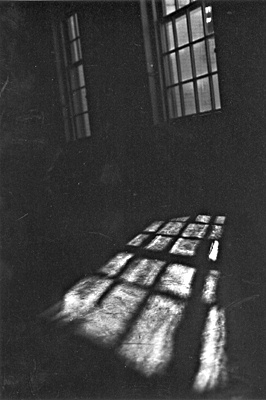 © Mary A., Fullerton, CA