University of Pennsylvania
MAG
January 15, 2015
Philadelphia, PA: College can be a very intimidating prospect. I am well aware that it is important for me to put myself out there to get an idea of what I am looking for in a university, so I have begun to visit colleges and meet their gymnastics coaches. Doing so has allowed me to determine what each school has to offer. Most recently, I visited the University of Pennsylvania in Philadelphia.
When I arrived, I was immediately awestruck by the beauty of the campus. On each street corner stands an old, historical building that adds to the elegance and nostalgia of the university. Additionally, Penn is located in a city, which I find to be a very attractive quality. However, unlike many city schools, the University of Pennsylvania is not scattered all around the city. Instead, there is one central location in an area of Philadelphia called University City. This allows students to have a traditional college experience complete with a "campus feel," while also enjoying the freedom of exploring a bustling city.
Not only is the scenery beautiful, but the University of Pennsylvania is also one of the most prestigious colleges in the country. With exceptional academics and a 10 percent acceptance rate, Penn ranks eighth out of the hundreds of universities in the United States. These statistics are part of what makes Penn so supremely appealing. Although being accepted by such an esteemed school is no easy task, thousands of applicants hope to be a part of the lucky 10 percent each year.
In addition to its aesthetic beauty and academic prestige, the University of Pennsylvania offers a vast range of courses that cater to almost any interest. Additionally, contrary to popular belief, clubs, sports, and social outings play a large role in students' lives. I talked to a sophomore who stated, "Being a student here at Penn does require many hours of hard work and studying, but over the course of these past two years I have made close friendships, joined the club soccer team and a sorority, and even got a job." Penn students inevitably spend the occasional long night in the library, but most are able to achieve a healthy balance between schoolwork, extracurricular activities, and maintaining a social life.
In starting the process of furthering my education, I have become aware of many aspects that will make me the happiest. By making this stride toward bettering myself, I realize what I must accomplish in terms of both academics and athletics in order to be accepted by my top choices. Like many high school students, I feel as though college is a lifetime away, but I know that in order to have a successful future and accomplish all that I hope, I must take the initiative now to visit colleges.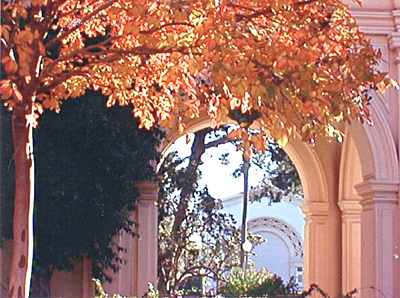 © Rachel B., San Diego, CA