Music in My Life
MAG
For a young person with little experience, music can be a hard concept, especially singing. At the age of nine, I stepped into the field of music. ­Little did I know that it would be life-changing.

My story begins in 2001. My mother asked if I would be interested in singing. I hadn't given it much thought. She suggested I join the Phoenix Boys Choir. She explained what it was and how successful it had always been. I decided to try out.

When I arrived, I met the conductor in charge of the younger boys. She had me sing "Twinkle Twinkle Little Star." A few moments later the conductor announced that I had passed my audition and would soon be a member of the training choir. I was so thrilled I couldn't say a word. This would turn out to be one of the most memorable moments of my life. I was going to be a member of the internationally known Phoenix Boys Choir!

I moved up through the levels of the choir quickly. Every boy longs to be in the most elite group – the Tour Choir. After two years, I made it. At 11 I had learned more about music than I could possibly have imagined. I learned music theory and how to read music. By the end of seventh grade I had been to Spain, Italy, and France. In Rome we performed at Saint Peter's Basilica. It was a blessing to be able to sing in such a holy setting. We also sang in the Florence Cathedral. We traveled around the United States ­performing with other choirs. Often we sang for ­dignitaries.

I think God blessed me with this talent because he wanted me to share my voice with others. I've heard it said that when you sing, you pray twice. I have learned hundreds of songs. We sing in many languages, and since our director always explains the songs' meaning, I understand and really become part of the music.

If my mother had not inspired me to try something out of my comfort zone, I never would have experienced what the world of music has to offer. More importantly, I might not have unveiled my true self if it were not for my mom and sing­ing. Singing makes me happy, and it is a huge part of who I am.

I hope to keep singing and increasing my knowledge of music. I have graduated from the Phoenix Boys Choir, and I now sing with the phenomenal Mens Choir, a group for former Boys Choir members, which has provided me with many opportunities. Last February, I took part in the American Choral ­Directors Association Honors Choir of 186 students chosen from five states. Because of this, I was offered a scholarship to the Idyllwild Music Aca­demy for summer camp to become a better singer. Unfortunately I couldn't attend.

I am very grateful for all I have accomplished musically and want to keep striving to become a superior musician. God has blessed me with the gift of music, and I'd love to share it with others so that they too can find the music in their lives.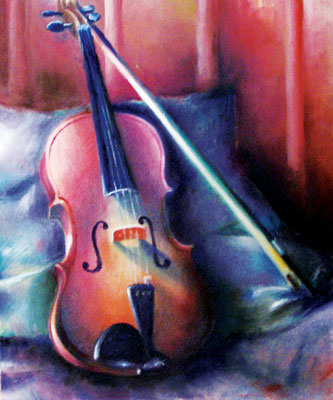 © Anonymous