More Than a Dream
MAG
I have wanted to be a writer since I was eleven years old. Not just any writer, but a real, published writer. Even at that immature age, these dreams were close to my heart; I wanted desperately to be published.

I remember my hopeful young self mailing a copy of my manuscript to Puffin Canada. This publishing house was compassionate; several long weeks later, they sent me a letter encouraging me to continue writing, but also bluntly explaining that they did not publish short stories, nor did they publish work by non-Canadians. It was kind of the publisher to write back, no doubt, but the truth was that I had come no closer to my goal of becoming a world-famous author.

I am still a hopeful, yet-to-be-published writer. The only difference is that now I am 17, not 11, and my English classes are no longer spent writing imaginative short stories but rather honing and enhancing analytical skills to examine literary works. I miss those sixth-grade English classes since, more often than not, I was given the freedom to concoct whatever magic my imagination fancied, soaking in the pure pleasure of writing whatever I felt comfortable with and cheered by.

Last year, some of this inspiration left over from my childhood developed into what seemed a brilliant idea for a novel. I was overwhelmed with excitement and worked on the story late each night, eager to press on and finish my first novel. I had never before finished anything more than a couple of pages long.

"When you finish your book, Jane," a good friend promised, "I'll treat you to a meal at Fat Angelo's." Fat Angelo's is a delightful, delicious Italian restaurant in Hong Kong. Another friend and neighbor would always ask about the latest developments in my stories when we rode the bus home together. Being a proud, hopeful writer, I always had lots to say.

"You'll be a famous writer someday," my buddy from Edmonton posted kindly on my website.

I believed them. I could be diligent when I wanted to be, and in this case, I desperately did. I got little sleep and my homework load was steadily increasing but I refused to allow anything to stand between me and my success as a published writer. I was close this time, closer than I had ever been.

When I had over 80 double-spaced pages, I was more than a little proud of myself. Sadly, it became increasingly difficult to write, partly because I had thoughtlessly skipped over essential planning at the start of my novel. I didn't know what I could do with my main character, the charming Arielle, considering that she had pitifully committed suicide under my orders. I had failed to plan. And as my father says, "To fail to plan is to plan to fail." I hate it when he says that. But oh, how true!

Reading back over what I had written, I found more problems with the story than just a failure to plan. The story was extremely dumb. It was almost unbearable to find that the parts I had meant to be sad, tear-jerking moments were in fact foolish and silly. The romantic segments I had so lovingly crafted were immature and unrealistic. It was horrifying. That "book" was itself horrifying. It was terribly disappointing to see my many months of work go to waste. Once again, even after so much time and effort had been devoted to writing, my dreams were not one inch closer to reality than five years before.

Today, I am 17. Slightly older than 11, slightly wiser than 16. Perhaps by now I have finally learned the truth about writing: it takes more than a dream. Perseverance and brilliance are right up there, too.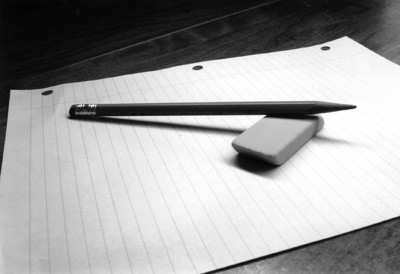 © Anonymous