Beginning of a New Life
May 9, 2019
I have built a strong inner strength from dealing with day-to-day internal and external struggles. I believe it will strengthen my academic success in college.
In January 2017, I found out my dad was diagnosed with Stage 4 colon cancer and was given a couple weeks to live. The way he handled the horrific news will forever be engraved in my mind. After the news, my grades began to fall and I struggled. During every moment of silence I could not help but I think I could not think about the future without my dad. I would be without him, knowing how much he did for our family. Twelve months later my dad was working out every morning, going to work as a Vice President of an international company, continuing with chemotherapy, and supporting and showing love to his family. I was not aware of the everyday struggles he had gone through, watching his weight everyday, calorie intake, blood pressure, etc. The strength and effort my father put forward daily left a big impact on me, and that is how I will approach college.
Since I was a young child, I wanted to be an all conference soccer player and captain, knowing my teammates trust me and I could lead them to success. As my last season of soccer approached I was chosen to be captain of the varsity team. We had a lot of new players, and I knew they would not be used to the atmosphere and tempo of the game. It was my job to lead and help each other them become better membersmates and better players. I was awarded second team all conference honors in soccer, a goal I have wanted to achieve ever since I was young.
Future Business Leaders of America (FBLA) is the greatest thing I have participated in during my high school career. It not only gave me an introduction into business but also taught me the ins and outs of business. After participating in FBLA for three years, I decided for my last year I wanted to better my knowledge and lead others that are interested in the business field. I was elected as an FBLA officer, which gave me an option to use leadership, problem solving, and communication skills. FBLA gave me a significant opportunity to give back to the community.
I have had the privilege for two summers to work in both water quality testing and business hospitality. Working with a team in these two settings caused me to seriously pursue the field of business.
The art of music has open my eyes and tested my brain a significant way, from overcoming adversity and working my hardest to master a challenging piece of music. It is not just about playing the right notes; it's about feeling the music and understanding each instruments' roll. With dedication and lots of practice, I qualified to participate at the state level in jazz two years in a row. This was a great accomplishment for me, as I put a lot of work into practicing the trumpet.
I plan to continue to play music, participate in clubs, and volunteer for the campus community in Eau Claire. Along with the positive atmosphere of the campus it is also beautiful. It would be an honor to attend UW-Eau Claire, as my is brother currently a student. He has benefited greatly from the excellent professors, their guidance, and small class sizes. The knowledge and work ethic I have achieved over the years gives me a great opportunity to succeed at the University.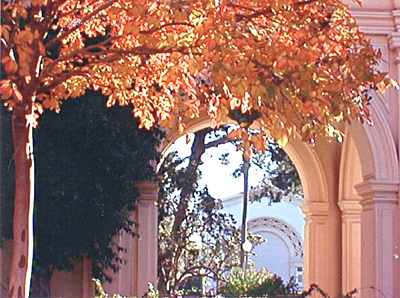 © Rachel B., San Diego, CA