The Past
April 15, 2009
It's time to move on
I love her, and miss her
but I have to keep going

The past has been lived,
We all have to learn how to move on
No matter how hard it hurts, no matter how much we loved them. They are watching us now and they would want to see us happy and not sad because we miss them.

If we start to live in the past, we will miss what's happening right this minute with everyone else. The past is there to show us how good our future can be.

I miss Emily, but I can't use everyday to cry about her not being with us.
I don't think she would want me to do that.

Today I thought about her. But tomorrow I should focus on something else so I don't cry.

I wish I could change the past.
But I know I can't. So i chose to live in the future.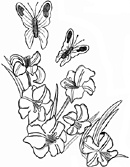 © Leah-Marie D., Peoria, AZ