Music Has the Right to Children by Boards of Canada
May 24, 2019
With its gently pulsing beats, heavy bass lines, and minimal sampling, Aphex Twin's earth-shattering 1992 full-length debut Selected Ambient Works 85-92 is unsurprisingly often regarded as the greatest electronica release of all time. However, little more than 5 years later, the blossoming Scottish duo Boards of Canada did the impossible by releasing something that just might be even better: Music Has the Right to Children.
Words simply cannot describe the bizarre genius of this album. The music, for starters, is intriguingly oblique: tunes effortlessly flow from disturbingly peaceful sonic wallpaper, coolly futuristic soundscapes, and grimy post-industrial grooves without ever feeling out of place or disjointed; making for one of those extremely rare albums where not a single second feels wasted or unnecessary. This is made especially shocking not only since the album literally runs over an hour (susquestent releases boost it up to 70 minutes straight by tacking on the equally immersive "Happy Cycling" at the end), but also because of the fact that not a single track on it could ever be recommended over the other; though "An Eagle In Your Mind", "Sixyten", "Aquarius", and "Pete Standing Alone" are probably the best places for curious or skeptical listeners to start.
Despite its brilliance, though, Children is the polar opposite of easy or accessible. In fact, some tracks (especially "Rue the Whirl" and "Smokes Quantity") are quite unsettling while most others, despite being pure slices of electronic bliss, last only a minute or two. Then again, considering that most of what passes for "techno" or "electronic music" today is produced by bland, instantly forgettable hacks such as the Chainsmokers, that particular kind of listening experience is actually quite refreshing.
Overall, despite Children admittedly being more for brave or patient listeners than casual audiences, those who instantly dismiss it on that level would truly be missing out on what is truly one of the most creative, important, and vastly rewarding albums of all time.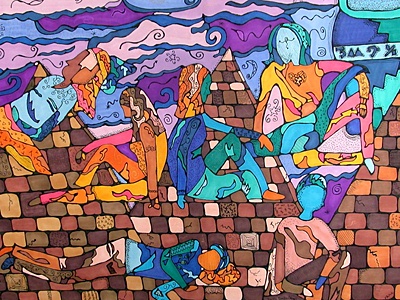 © Katie V., Gainesville, GA