Album Review About ASTROWORLD
May 16, 2019

On August 10, 2018, Travis Scott dropped a marvelous album that eventually hit double platinum about three months after the drop. The album featured Frank Ocean, Drake, Swae Lee, Juice Wrld, Sheck Wes, The Weeknd, 21 Savage, Gunna, Nav, Don Toliver, Quavo, and Takeoff. All of the very well known artists adds an extra trippy feeling, along with the melodies. Astroworld is a Hip-Hop and Rap fit but it's definitely nothing you've ever heard. This album makes you feel like you're taking a trip to another planet in Scott's shoes.

The album cover of this drop was almost carnival themed but on a different planet. The main part of it was Travis Scott's head as a golden statue with his mouth wide open and his mouth is the entrance to the carnival. There are two kids right in front of the cover where one kid is almost gravitating with his popcorn and the other kid is eating his popcorn in shock as if he's seen something so cool. Other details is a rocket in the background and another small golden statue that seems to be putting his arm over his heart. This whole album cover art seemed like this is what Scott imagined his world to be like.

There are seventeen tracks on the album and in the very first track of Astroworld, named STARGAZING, he opens the trip with him taking drugs and how psychedelic he feels. He even hints a little bit of his wife, Kylie Jenner, saving his life. The track SICKO MODE was a big hit ever since the album dropped, considering itself being a 7x platinum track. For majority of the songs like R.I.P. SCREW, STOP TRYING TO BE GOD, SKELETONS, ASTROTHUNDER, YOSEMITE, and HOUSTONFORNICATION are the prime examples of how trippy the album feels. Those couple of songs give you the extra trip on a plane, especially when you're sitting in the passenger seat of a car. Travis Scott finished the album with the track COFFEE BEAN, giving you a relaxing vibe. In the last song, Scott mostly talks about himself and his significant other going through things together but it does makes you feel a certain type of calm energy.

Now, the story behind the title isn't so secret. There are many reasons why Travis Scott named it such a way but it seems as if he has taken the named from a rollercoaster ride from Six Flags, literally named Astroworld that stopped being ridden on in 2005. He also maybe have gotten the name from his hometown's baseball team, the Houston Astros. But yet, Travis Scott has been working on this album for a very long time and I am sure there are many different solutions to why Scott has named it such but that's all for his own story to know.
The greatest part of the album is just the feeling of how Travis Scott expresses himself throughout the album. The different melodies, raps here and there, different artists to set out different feelings and whatnot. He mixes genres like rap or hip-hop in unfamiliar ways that most of us in the new generation of kids have never heard before. Even if we have, it would be a rare hearing to catch. To hear that this album was in the process of making for such time, the results definitely was worth it knowing that Travis Scott is such a hard working person for working around his own visions and dreams.

From the tracks, album features, album cover art, etc. Travis Scott never failed to disappoint. It was a big hit all around the world and maybe even in space. Definitely a ten out of ten recommend album but you might want to keep an open mind and maybe put yourself into Travis Scott's shoes.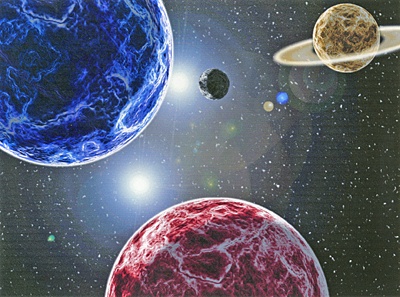 © Alex D., Phoenix, AZ