Assume Form • James Blake
MAG
March 22, 2019
I'm not in my body, I'm not really experiencing life through first-person. It's like I'm looking at it from above. – James Blake

When emotional pain becomes overwhelming, our brains survive by shutting down. A common coping mechanism for mental disorders like depression and PTSD is dissociation from the body. Dissociation in the face of extreme emotion becomes a symptom in and of itself. In fact, one of the most commons reasons for self-injury is not self-punishment, or release from sadness, it is the simple desire of wanting to feel something instead of constant numbness. In "Assume Form," James Blake sings, "Know I'm in a haze/ Gone through the motions my whole life/ I hope this is the first day/ That I connect motion to feeling." Interweaving abstract imagery of pain with the evolution of a relationship, "Assume Form" warns us about dismissing our emotions. The album presents a choice between forcing ourselves into emotional limbo or powering through our obstacles. We are trapped in the haze, but soon we will feel again.
The album fuses together soft piano and sorrowful violin – underscoring James Blake's falsetto – to create almost acoustic songs that, without a close listening, sound virtually identical. Blake creates variation so subtly that, when a woman joins him in harmony in songs like "Barefoot in the Park," we barely notice. Except for scattered moments of rap or Spanish, the songs drone on quietly; they have no obvious buildup, chorus, or resolution. This melancholy hum allows the listener to relax and blend into the music. "Assume Form" is not an album that you listen to with full concentration, nor is it an album that you can play in the background; it subtly commands attention.
In the song, "Barefoot in the Park," James Blake sings, "When you're done with me/ I see a negative space." When we are in love, when we fuse our emotions with the emotions of another person, we make ourselves vulnerable to pain. Although we may feel like we are perfectly in sync with our loved ones, ultimately, we do not and cannot know exactly what they are feeling. It is possible that they do not feel about us the way that we feel about them. It is possible that they do not love us as much as we love them. We are presented with a dilemma: do we close ourselves off in order to not be hurt, or do we cope with living in the not knowing? As James Blake puts it in the song "Are You in Love?" our instinct is to demand "the right to disappear." The easiest way to avoid pain is to never put yourself in a position where you can be hurt. But when we close ourselves off from all situations that can cause us pain, we miss out on everything that can cause us joy. You cannot dissociate from pain without dissociating from happiness.
"Assume Form" is not an album about coping with sadness; it is a warning about what happens when we disassociate from our sadness. It is a warning against automatically responding "I'm fine" when someone asks us what is wrong. It is a warning against locking the door and drawing the curtains before we allow ourselves to feel our emotions. Nowhere in the album does James Blake try to ease the pain of the ups and downs of his relationship. Instead, he "powers on." He is not saying that the pain does not exist, he is saying that in order to experience life, you must experience pain. This is the ultimate message of the album: when we drift above the clouds, we lose sight of what is happening on Earth. We must "Assume Form."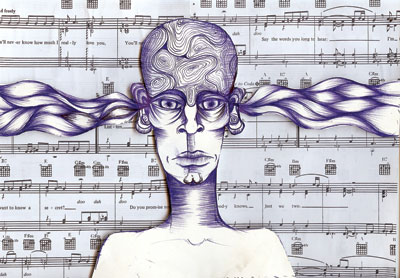 © Ani S., Petaluma, CA