Freedom Writers
MAG
April 19, 2018
"Freedom Writers," directed by Richard LaGravenese, portrays a hardworking teacher, Erin Gruwell (played by Hilary Swank), who inspires teens to have a successful future instead of dropping out of school and being involved in gangs, violence, and drugs.

"Freedom Writers" is based on the true experiences of Erin Gruwell and her students at Woodrow Wilson High School in Long Beach, CA. The film demonstrates a good moral, has superb actors, and has a positive resolution at the end. Gruwell is an inspiration to her students because she helped them strive toward a better future. In "Freedom Writers: the Movie" Swank explained, "After this experience they are now realizing how much their lives can be and to see that hope instilled in them is the biggest gift. They feel like my kids and I think every parent wants that for their kids. They want them to be hopeful for their future and to know that they can do anything they set their mind to." Gruwell and Swank have similar ideas regarding the children portrayed in the "Freedom Writers." In SuperConsciousness Magazine, Gruwell herself states, "They came from a very respectful place. They were given a chance. Somebody believed in them, and they wanted to prove that they were worthy of that."

The weaknesses of this film revolves around on how realistically the story is depicted, such as the scenes of gang life and how well it taught an important lesson throughout the movie. "Nick's Flick Picks review of Freedom Writers," indicates that "the film features almost zero teaching." However, Emanuel Levy, who overall sees mostly positives in Freedom Writers, recognizes that "this story is about somebody who's willing to get in the trenches, have chalk on them, be vulnerable, and to go through that emotional journey. I agree with Emanuel Levy's opinion about how one must work hard and get through obstacles in order to succeed in life. Also, found in "Freedom Writers: the Movie: Emanuel Levy," Swank states,"Erin was a mentor to these kids and was an incredible source of unconditional support, but ultimately the kids had to go within and do the work themselves." Swank believes that Erin was an excellent role model who cared about her student's future by helping them. Swank supports Erin's motives and likes playing Erin throughout the movie. Swank appears to be smiling when she helps her students with their work and supports her students by helping them get out of gangs. Levy deems that people cannot relate themselves to Gruwell because she went out of her way to learn about the struggles about the life that people lived in a poor society and have the willingness to try to help them get onto a successful path. Also,"Nick's Flick Picks review of Freedom Writers," includes that the filmmakers should have created more depth into the story, reflection, and obstacles people dealt with at home. However, in the movie teens dealt with paying off debt, supporting their family, and living on the streets. Basically, the only option for teens to survive and make money was to sell drugs illegally. The teens portrayed in the movie barely focused on education and only cared about staying alive. Gruwell was able to take a positive impact on these teens lives and help them get past hardships. Viewers should reflect back to the movie Freedom Writers to see if it teaches a lesson of how every child is teachable and if it informs the public about gangs, violence, and troubled teens.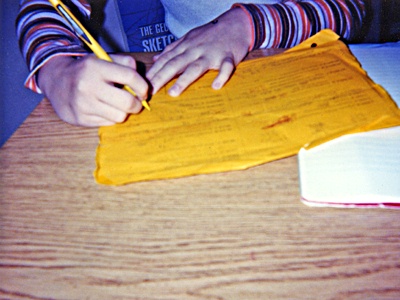 © April R., Highland Village, TX