Finding Vivian Maier
May 1, 2014
Vivian Maier did not think of herself as a photographer — she described herself as "sort of a spy."
Maier's photographs offer a rare glimpse into 1950s urban America. She sheds light on social and political issues, of which she was very aware, by photographing workers, the disabled, but she also shows love and tenderness. Fingers intertwined, a child tugging on her mother's skirt, an old man with a newspaper — her portraits are so poignant, so remarkably candid that it is almost as if the subjects did not know they were being photographed. Her photos manipulate human emotions, moving us to laughter, sympathy or even tears.
It is hard to describe Vivian Maier. The movie opens with expressions — people pursing their lips, frowning, trying to come up with something to fit this enigma of a woman. Paradoxical, they finally say, eccentric, bold.
Maier was an interesting person, to say the least. She was not exactly a welcoming woman. Maier was tall — seven feet, a woman joked — walked stiffly, and "dressed like a factory worker from the Soviet Union." She was a pack rat, a hoarder, and kept everything from newspapers, piles of which covered the floor and stretched to the ceiling in her room, to trinkets that she had picked up at a dollar store. Yet somehow, despite all these oddities, she got people to trust her, to bear their souls to her — first as a nanny, then as a photographer.
"Finding Vivian Maier" aims to turn the life of a reclusive photographer into a mystery, telling the story of her life through her photographs.
It all started with a box of negatives, bought at an auction for about $350 by John Maloof, who wanted to write a history book.
He slowly reveals tidbits of Maier's life through the tales of her charges and her employers, some of whom thought of her as a friend, and some of whom described her as the "wicked witch of the West."
Maloof is clearly meant to be the main character in this mystery, the sort-of hero of the movie who turns an anonymous woman into the queen of street photography.
It was glaringly obvious that Maloof intended "Finding Vivian Maier" to be his 83 minute advertisement. Maloof used the film to solidify his status as the sole owner of Maier's work — his name and signature are featured on the stamp that authenticates the photographs — and his atrociously loyal defense of Maier comes off as nothing more than ploy for dollars.
It is ultimately the dialogues of Maier's associates that carry the film. The touching, often witty, dialogue, punctuated at appropriate moments with dry humor, made Maloof's shameless self-promoting slightly more palatable.
Overlooking Maloof's advertising, however, the movie reveals deeper, meaningful themes, including who gets to classify art. Despite the popularity of Maier's photographs, the art world refuses to recognize her works because most were not printed while she was still alive. However, in the age of the Internet, everyone is a critic, and right now, it seems like the art world is losing heavily to the general population.
"Finding Vivian Maier" is a bizarre but intriguing tale of a nanny, a photographer and a lonely woman, able to trust in only the stories told in a stranger's eyes.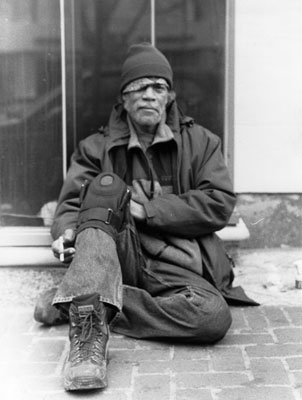 © Marie D., McLean, VA