WALL-E
March 31, 2014
The year is 2805, and the world's a dump. Literally. The human race have evacuated into outer-space, leaving legions of Waste Allocation Load Lifter (Earth-class) (WALL-E)robots to clean up. At first it works, but machines don't last forever, and without humans to repair them, the WALL-E's break eternally. All except one. His secret? He's developed a personality. A personality that drives him to fix himself, adopt a cockroach as a pet, and fall in love with EVE (Extra-terrestrial Vegetation Evaluator), a probe sent from the star-ship the Axiom, where all the humans have turned flabby, fat and lazy. They usually don't have the thought to even turn off their chatting screens, and even leaning forward in their hover chairs is strenuous.
Hmm...sounds familiar. And then WALL-E shows EVE a plant.


The good stuff:
When told that he would survive on the Axiom, the captain says "I don't want to survive, I want to live." The theme of responsibility is replayed often through the story. It's what drives nearly all the characters through their goals, even the villains.
While the environmentalist view is suggested in the film, it is well balanced so as not to idolize it, nor ignore it.
Language is kept at a low. There's no kissing, huzzah!


The bad stuff:
While digging through the garbage, WALL-E finds an article of woman's underclothing and sticks it over his eyes. He also makes a 'portrait' of EVE out of trash, using a toilet bowl for her head. EVE scans a port-a-potty for life.


All in all, it's a pretty cool movie, one of Pixar's great achivements.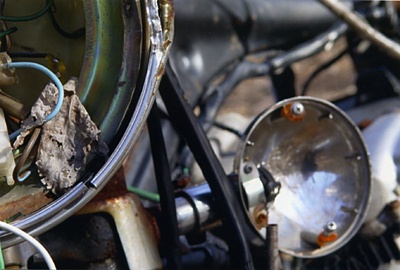 © Sara M., Milford, CT