Cheaper by the Dozen
MAG
Steve Martin and Bonnie Hunt do an outstanding job portraying the parents of 12 children living in a small country house where every day is full of mishaps and mischief.

For Tom Baker and his wife Mary, raising 12 children isn't all that hard just as long as they remember which kid is which. But things are about to get a lot harder: Tom and his family must move to Chicago because of his coaching job for a big college team. Now that doesn't sound so bad, does it? They get a gigantic house in a beautiful neighborhood, but things start to fall apart when Mary's book is published and she must do a book tour, leaving Tom alone with the children and a full-time job.

Steve Martin's acting is hilarious. It's especially funny how his character can't remember who is who among the kids. He finds out his stupidity doesn't just affect himself but his children, too.

This is one of the most hilarious movies I have ever seen! It is absolutely great for people of all ages. The comical mischief of the children is great for younger kids and teens, while the constant running around by the parents will appeal to adults. I highly recommend it to anyone with a sense humor.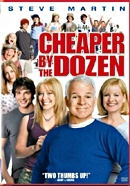 © Anonymous